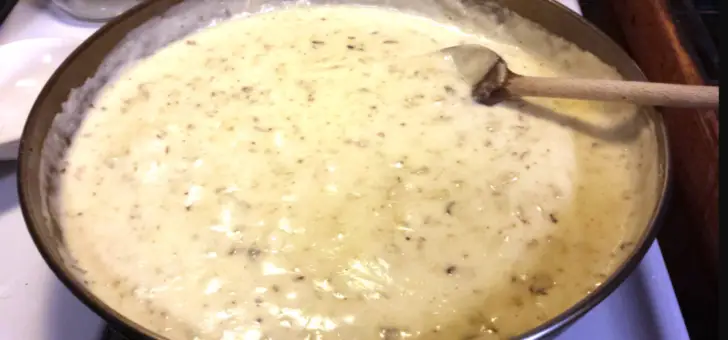 Have you ever noticed how many recipes call for condensed soup? A lot of my favorite winter recipes (read: comfort foods) call for cream of mushroom, cream of chicken, or cream of celery soup. I have always used these soups for recipes without hesitation, However, now that I read ingredient labels and try not to use highly-processed foods, I understand that condensed soup isn't as healthy as the advertisements would lead you to believe.
After a quick internet search, I found nutritional information for Campell's Cream of Mushroom Soup. The ingredient list leaves much to be desired. I certainly don't cook with monosodium glutamate (MSG), soy protein concentrate, and "flavoring" (which could mean anything) on a regular basis in my kitchen. I thought there must be a better way…and I was right.
Another quick internet search lead me to many recipes for "homemade cream of mushroom soups." After reading several recipes, I came up with a plan for making my own condensed cream of mushroom substitute. After all, I'm not ready to give up on making my favorite beef stroganoff recipe just because the original recipe calls for condensed soup.
I'll admit, making your own cream of mushroom substitute isn't as easy as cracking open a can of soup, but making this substitute honestly isn't difficult or time consuming. I feel that the extra 10-15 minutes it takes to make the homemade sauce is worth it. It feels good to serve my family a meal made with all "real" ingredients and no MSG..
The ingredients are pantry staples…just add mushrooms!
Here's how I made the Condensed Cream of Mushroom Soup Substitute:
Condensed Cream of Mushroom Soup Substitute (equivalent of 1 can)
Ingredients
1 tablespoon of butter
3 tablespoons of flour
1/2 cup of broth (I used organic chicken broth)
1/2 cup of milk
4 oz of mushrooms, fresh or canned (I used fresh)
salt and pepper, to taste
I melted the butter in a saucepan over medium-low head and added the mushrooms to saute a bit in the butter, poking at the mushrooms with a wooden spoon to break them into little pieces. Then, I added 1 tablespoon of flour, a little at a time, until the mixture was smooth and similar to a roux (but with chunks of mushrooms). I removed the mixture from the heat and slowly stirred in about half of the broth and half of the milk, stirring constantly to keep the mixture smooth. I returned the saucepan to the heat and allowed the mixture to gently simmer as I continued to slowly add the remaining flour, milk and broth (a little at a time to keep it smooth). I stirred the sauce constantly as it thickened. I knew it was ready when it was thick and saucy, almost like the condensed soup is out of the can…but fresh!
You can use this mixture just as you would a can of condensed cream of mushroom soup. I doubled the recipe (which worked perfectly), and used it in my beef stroganoff recipe. With the homemade sauce, I think the recipe turned out even better than with the condensed soup! Everything tasted so fresh.
If you need a substitute for cream of chicken soup or cream of celery soup, you could easily swap the mushrooms in this recipe for diced chicken or celery.
If you truly don't have the 10-15 minutes it takes to make this substitute for condensed cream soup (and let's face it, parents don't always have the luxury of extra time), you can always use an organic soup. I have had luck with Pacific Natural Foods and Amy's soups.
This recipe is a great substitute for condensed "cream of…" soups in your favorite holiday dishes. Enjoy!