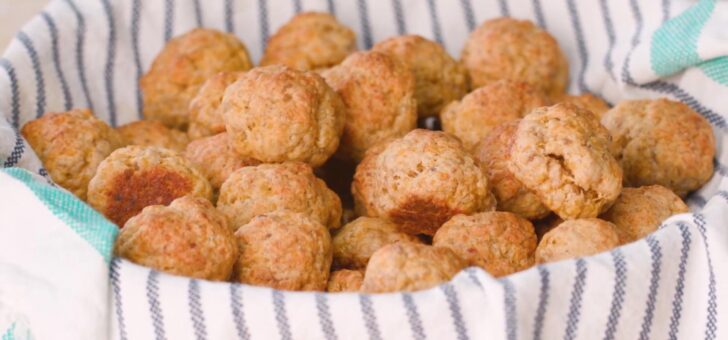 I forget how sausage balls came to be a holiday tradition in our family. I remember making them a time or two when my husband and I were dating and engaged, and eventually it became a given that sausage balls will be served during the holidays. My husband even memorized the recipe, so he can make the them when he is required to bring a dish to a Christmas party.
My friends in the south are probably no strangers to sausage balls, but when I moved to Colorado people were in awe of this recipe. So simple, yet sooooo good! Try this recipe when you are asked to bring an appetizer to a party, and I guarantee that you will not be bringing home leftovers!
Here's how I make the sausage balls:
Southern Sausage Balls (serves a small crowd as an appetizer)
Ingredients
1 lb of natural ground bulk pork sausage*
2 cups of shredded sharp cheddar cheese (I used extra sharp white cheddar)
2 cups of Bisquick (or you can easily make your own Bisquick)
Preheat oven to 400 degrees. Line 2 baking sheets with foil and spray with cooking spray. In a large bowl, mix the sausage, cheese and Bisquick with your hands until it clumps together into a large ball of "dough." I usually need to add a few drops of water to help everything stick together nicely. Form the dough into 1 inch balls and place on the baking sheets so the balls are not touching. Bake 15-20 minutes until the tops begin to turn golden brown. Serve warm or at room temperature.
*I look for sausage that does not have MSG (also called monosodium glutamate), preservatives, corn syrup, or "flavorings."
During the holidays, I make allowances for splurge foods. Bisquick is not an ingredient that generally fits into our "real food" lifestyle, but I was very happy to find that a Bisquick substitute is easy to make from ingredients I always have in my fridge and pantry. Even when I splurge, I do try to use the best ingredients possible when I cook for myself, my friends, and my family.