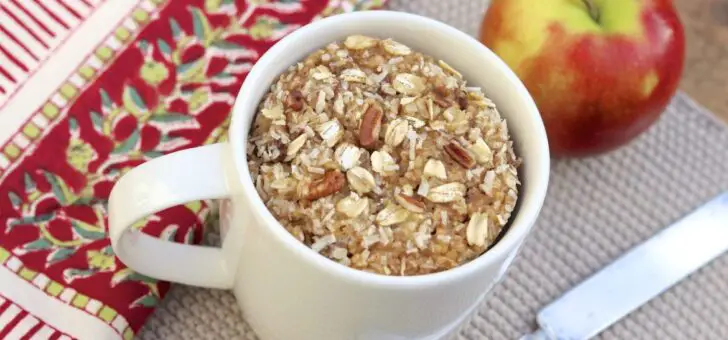 As much as I try to get my children to eat the same meals that my husband and I do, sometimes things are easier said than done. The reality is that each person has different tastes, and there is no way that a 1 year old and 3 year old are going to eat everything that the adults eat. That's why I love meals that can easily be tweaked so each person gets exactly what they want.
Oatmeal is the perfect breakfast to please everyone in the family. We can make a big bowl (or pot) of oatmeal, and each person can top a helping any way he or she likes.
There are several types of oats/oatmeal to choose from:
Old-fashioned oats – whole grain rolled oats
Quick oats – whole grain rolled oats cut smaller and thinner
Steel-cut oats – whole grain oats cut (instead of rolled) into little pieces
Instant oatmeal – precooked and dried oats. Often the manufacturer adds sweetener and flavors.
Our family likes quick oats for a simple reason…because they are quick! The little ones just don't have the patience in the morning to wait too long for their breakfast. They also like the texture, which is a little softer and less chewy than old-fashioned oats. I think they are a little more palatable to their young taste buds. I started buying them from the bulk bins at the store so I can really stock up at a reasonable price.
I usually make enough for the 2 kids at once, but sometimes I make more so I can have some too!
Here is how I make our oats:
Customized Hot Oatmeal (makes 2 child-sized portions)
Ingredients
3/4 cup quick oats
1 cup whole or 1.5% milk
toppings
Mix the oats and milk in a microwavable bowl. Microwave for 1 minute. Stir and add another splash of milk if necessary. Microwave for an additional 15 seconds. Add another splash of milk to cool the oats down and make them extra creamy. Top them however you like!
My 1 year old eats his oatmeal with 2 tablespoons of applesauce and a sprinkle of cinnamon mixed in. My 3 year old eats hers with a small splash of pure vanilla extract mixed in and topped with raisins, 2 tablespoons of applesauce, a drizzle of honey and a sprinkle of cinnamon (she likes to mix the toppings in herself).
You can mix and match toppings to create your own customized hot oatmeal.
Topping and Mix-in Suggestions:
sprinkle of cinnamon
raisins, dried cranberries, cut dried apricots or other dried fruit
nuts
applesauce
honey, maple syrup, agave nectar, brown sugar or other sweetener
coconut flakes
pure vanilla extract
peanut butter or other nut butter
fresh or frozen berries
banana slices
dollop of yogurt
fruit puree or jam/preserves
If you have any other great topping or mix-in suggestions, please leave comment below to share them.