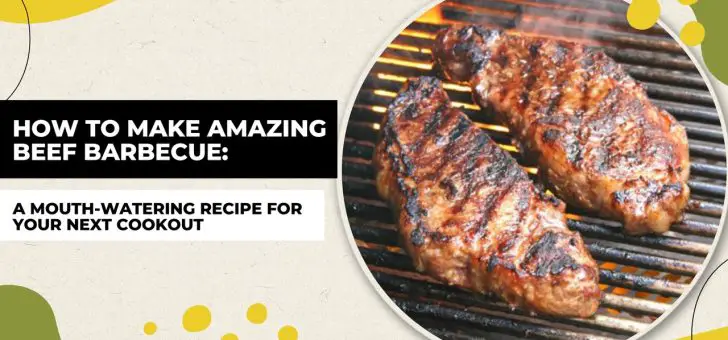 Barbecue beef is a classic dish that is loved by many. Whether you're a seasoned pitmaster or a beginner, this amazing beef barbecue recipe is sure to impress. The combination of tender, juicy beef and a mouth-watering sauce creates a flavor explosion that is sure to please even the pickiest of eaters. Here's everything you need to know to make the most amazing beef barbecue of your life.
4-5 pound beef brisket
1/4 cup brown sugar
1/4 cup paprika
2 tablespoons chili powder
2 tablespoons garlic powder
1 tablespoon onion powder
1 tablespoon dried thyme
2 teaspoons salt
1 teaspoon black pepper
1 cup apple cider vinegar
1/2 cup Worcestershire sauce
1/2 cup tomato ketchup
1/4 cup honey
1/4 cup Dijon mustard
1. Preparing the Brisket
The first step in making amazing barbecue beef is to prepare the brisket. Start by mixing together the brown sugar, paprika, chili powder, garlic powder, onion powder, thyme, salt, and black pepper in a bowl. Rub the spice mixture all over the brisket, making sure to cover all sides. This will help the brisket develop a rich, smoky flavor during the cooking process.
2. Cooking the Brisket
Preheat your grill to 225°F and place the brisket on the grill. Close the lid and let the brisket cook for 6-8 hours, or until it reaches an internal temperature of 205°F. During this time, it's important to monitor the temperature of the grill and the brisket to ensure that it cooks evenly.
3. Basting the Brisket
While the brisket is cooking, prepare the basting sauce. In a saucepan, mix together the apple cider vinegar, Worcestershire sauce, tomato ketchup, honey, and Dijon mustard. Cook the sauce over medium heat until it thickens. For the last 3 hours of cooking, baste the brisket with the sauce every hour. This will help add flavor and keep the meat moist.
4. Resting the Brisket
Once the brisket has reached an internal temperature of 205°F, remove it from the grill and let it rest for 15 minutes. This will allow the juices to redistribute and the meat to become even more tender.
5. Slicing and Serving
After the brisket has rested, it's time to slice and serve. Cut the brisket against the grain into thin slices, making sure to remove any excess fat. Serve with additional sauce on the side and enjoy!
In conclusion, this amazing beef barbecue recipe is sure to impress. With its combination of smoky spices, tangy sauce, and tender beef, it's the perfect dish for any barbecue enthusiast. So why not give this recipe a try and see for yourself what makes this beef barbecue so amazing. Happy grilling!