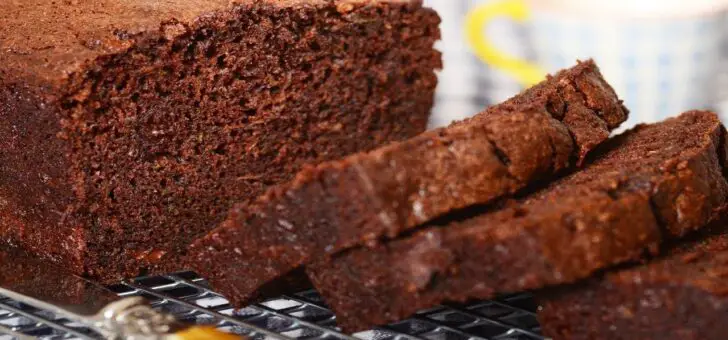 I was lucky enough to receive a bounty of garden fresh veggies from a friend who gardens. One of the veggies I received was an enormous zucchini. What better way to use that giant green vegetable up than to make zucchini bread?
My kids love bread (and any other carbs), so zucchini bread is a great way to sneak veggies into something they consider a treat. Since I have a sweet tooth (and so does everyone else in the family), I figured I would try adding some cocoa powder to make it chocolate-y. It turned out amazing, and I don't know if I will ever make zucchini bread without cocoa again.
I adapted my recipe from the zucchini bread recipe in my Betty Crocker's Cookbook. I have an older version of the cookbook, but I'm sure the new one has the great traditional recipes too. The recipe I make uses 3 cups of shredded zucchini, so I thought for sure I would use the whole huge zucchini. I didn't. Guess I'll be making more!
Here's how I made the bread:
Cocoa Zucchini Bread (makes 2 loaves)
Ingredients
3 cups of shredded zucchini
1 2/3 cups of sugar
2/3 cup of applesauce (I try to use organic applesauce with no added sugars or artificial sweeteners)
3 teaspoons of pure vanilla extract
4 large eggs
3 cups of flour (I used half all purpose and half whole wheat)
2 teaspoons of baking soda
1 teaspoon of salt
1 teaspoon of ground cinnamon
1/2 teaspoon of baking powder
1/2 cup of cocoa
I heated my convection bake oven to 325 degrees (typed in 350 and the oven automatically reset it 25 degrees cooler to 325). If you have the convection bake setting on your oven, you can use it for this recipe. Otherwise heat your regular oven to 350 degrees and make sure the oven racks are positioned so the loaf pans are centered in the oven.
I greased 2 loaf pans with butter. Then I mixed the zucchini, sugar, applesauce, vanilla and eggs in a large bowl. After those ingredients were mixed, I stirred in all of the remaining ingredients. I poured the batter evenly into the loaf pans and baked the bread in the convection oven for 50 minutes (until a toothpick inserted in the center came out clean).
I allowed the bread to cool in the pan on a wire rack for 10 minutes and then removed the bread from the pans to sit on the wire rack until completely cool (about 2 hours).
This bread stays fresh wrapped tightly at room temperature for 4 days, in the fridge for 10 days, or in the freezer for several months.
I like to pre-slice the bread before freezing it and put plastic wrap or wax paper between the slices. Whenever I want just one slice for myself or the kids, I can just take out what we need!
If you have some zucchini from the garden that you need to use up, this recipe is a great way to do it. The applesauce makes the bread very moist, and I think using the convection bake setting on my oven made the bread come out better than ever!