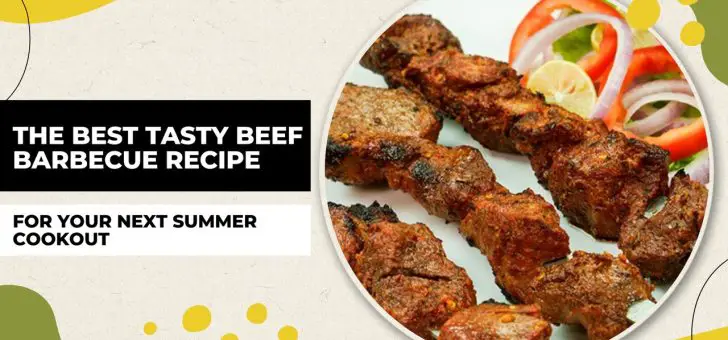 Barbecue beef is a staple of summer cookouts, but not all recipes are created equal. Some are too complicated, while others lack flavor. But this recipe is different. It's easy to prepare, yet packed with delicious, bold flavors that will make your taste buds dance. Here's a recipe for the best tasty beef barbecue that's sure to be a hit at your next summer cookout.
2-3 pound beef roast
1/2 cup soy sauce
1/4 cup honey
2 tablespoons hoisin sauce
2 tablespoons balsamic vinegar
2 cloves garlic, minced
1 teaspoon chili powder
1 teaspoon salt
1/2 teaspoon black pepper
1. Mix the Ingredients
In a large bowl, mix together the soy sauce, honey, hoisin sauce, balsamic vinegar, minced garlic, chili powder, salt, and black pepper.
2. Marinate the Beef
Place the beef roast in a large ziplock bag and pour the marinade mixture over it. Seal the bag and marinate the beef in the refrigerator for at least 2 hours, or overnight for best results.
3. Cook the Beef
Preheat your grill to medium-high heat. Remove the beef from the marinade and place it on the grill. Close the lid and let the beef cook for about 40-60 minutes, or until it reaches an internal temperature of 145°F for medium-rare. Baste the beef with the remaining marinade every 10-15 minutes to add flavor and moisture.
4. Rest and Serve
Once the beef has reached the desired temperature, remove it from the grill and let it rest for 10 minutes. This will allow the juices to redistribute and the beef to become even more tender. Slice the beef against the grain into thin slices and serve.
This tasty beef barbecue recipe is sure to be a crowd-pleaser at your next summer cookout. With its blend of soy sauce, honey, hoisin sauce, and balsamic vinegar, it's a flavor explosion in every bite. So, fire up the grill and enjoy the best tasting beef barbecue of your life!