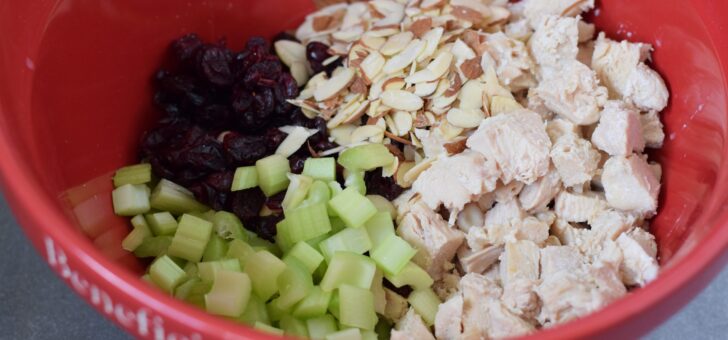 The holidays are here…tis the season to pig out! I am all for splurging (on special occasions, in moderation, etc), so in between holiday parties and special dinners I try to eat lighter meals and smaller portions. I also allow my children to splurge on special occasions, so on regular weekdays I make sure that they have healthy options on their plates at every meal. We always have fresh and frozen fruits and veggies in our house, so the kids always have a serving of each on their plates…whether or not they actually eat them is another story, but I try!
Today I made one of my favorite light lunches…chicken salad. But I gave it a bit of a seasonal twist by adding dried cranberries. I love chicken salad because you can easily change the dressing and the add-ins to make all kinds of variations. I tend to prefer mayo-based dressings on my chicken salad, but you can easily lighten it up by using yogurt instead. Use extra lemon juice for a tangier dressing or extra honey for a sweeter dressing. I love getting creative!
Here's how I made my chicken salad with cranberries:
Cranberry Poppyseed Chicken Salad (serves 1-2 for lunch or 2-4 for appetizers)
Ingredients
1 cup of chicken, chopped
2 tablespoons of dried cranberries
1/3 of an apple, chopped (I used a Jonagold apple)
2 tablespoons of mayo or plain yogurt
1 1/2 tablespoons of lemon juice
1 tablespoon of honey
1/4 teaspoon of poppy seeds
fresh cracked pepper, to taste
Place the chicken, cranberries, and apple in a medium bowl. In a small bowl, stir together the mayo or yogurt, lemon juice, honey, poppy seeds, and pepper until well mixed. Pour the dressing over the chicken mixture, and toss to combine. Serve immediately or refrigerate (and allow flavors to combine) until ready to serve.
This versatile chicken salad can be served on toast as a sandwich, over greens, or spread on crackers. I ate mine with crackers, fresh berries, and a few slices of white cheddar. I would have added some greens, but we are out of them until I go to the store on Wednesday. As an appetizer, it is great served on crackers with or without sliced cheese. Add fresh berries or fresh baby greens as a garnish if desired.
I offered the chicken salad to my kids, but they were only interested in picking out the cranberries and apples to eat. I guess I'll have to wait for their palates to mature a bit!