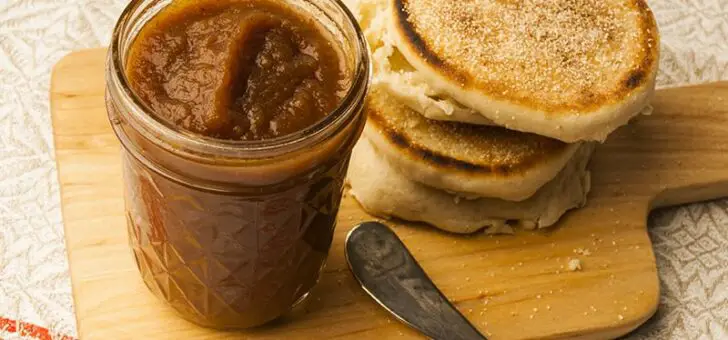 We have been going crazy for apples around here.  Sprouts has advertised great sales on all kinds of apples, so we have tried the Honeycrisp, Jonagold, Granny Smith, and of course Red Delicious varieties…and we plan on trying more!  The kids like apple slices as a snack, but I have also been slicing them thin and putting them in sandwiches.  They are great on peanut butter sandwiches or toasted in a grilled cheese.  Sometimes I even microwave peeled, chopped apples with a bit of water.  After they are cooked, I just drain them and add a healthy sprinkle of cinnamon and a little dab of butter…and the kids get "easy baked apples" as an after dinner treat!
My latest and greatest apple recipe is one that I had never tried to make before this year but I had always wanted to – Apple Butter.  My Betty Crocker's Cookbook ("The Big Red Cookbook") has a recipe that looked easy enough, so I decided to buy a bunch of Granny Smith apples when they were on super sale and put the recipe to the test.  Lucky for me, the recipe turned out easy AND delicious!  If you love apple butter, I definitely recommend making this recipe for your family.  You can also divvy the sweet stuff out into small jars and give them as gifts!
Here's how I made the apple butter:
Spiced Apple Butter (makes 3 cups)
Ingredients
8 Granny Smith apples, peeled and cored and cut into large chunks
1 cup of packed brown sugar
1 cup of apple juice
1 tablespoon of ground cinnamon
1 tablespoon of lemon juice
1 teaspoon of ground allspice
1 teaspoon of ground nutmeg
1/2 teaspoon of ground cloves
In a dutch oven, I heated all of the ingredients to boiling over high heat.  Then, I reduced the heat, covered the mixture, and allowed it to simmer for an hour.  After an hour of simmering, I mashed the apples with a potato masher.  Then, I simmered the mixture, uncovered, for another hour (stirring occasionally) until it was very thick.  I removed the dutch oven from the heat and used my immersion blender to blend all of the apple chunks until they were smooth (you can skip this blending step if you prefer chunkier apple butter).  I allowed the apple butter to cool about 30 minutes – 1 hour.  I spooned the apple butter into glass jars (you can use any container with an airtight lid).  The apple butter will keep in the refrigerator for up to 3 weeks.
I was so impressed with how this apple butter turned out.  If I had know it was this easy and this tasty, I would have started making it years ago.  My almost 4 year old helped me with the stirring, and she loved being my kitchen helper!  We have been spreading apple butter on toast and muffins, but it is also great on peanut butter sandwiches instead of jelly.  You could even use it as a special topping for pancakes, waffles, or french toast.  The possibilities are endless!