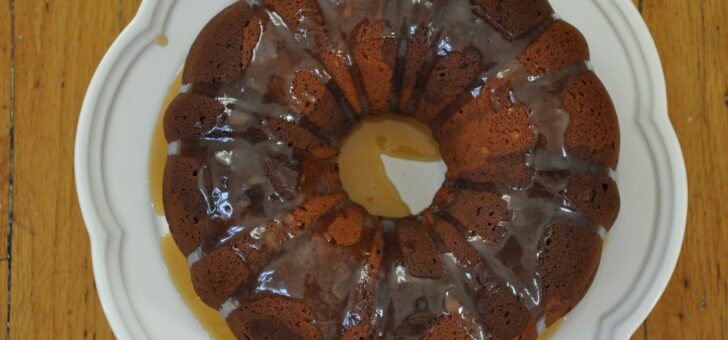 Happy New Year! I had a wonderful Christmas celebrating with my family, and I hope you did as well! Having a 1 year old and a 4 year old in the house keeps us very busy, but the holidays are such a joy with little ones. We enjoyed our time watching holiday movies, eating special meals, and enjoying lots of sweet treats!
I like to splurge during the holidays, so I definitely let the kids enjoy a few more sweets than normal. We normally don't eat sweets every day, but during the holidays it is hard to resist the cookies, candy canes, and other seasonal goodies. I prefer homemade goodies to store-bought treats, because I can control the ingredients in the sweets I make at home.
This year I made a special cake for Christmas Eve dessert. It wasn't very difficult to make, but it looked and tasted like a gourmet dessert!
The recipe for this cake was originally published in Better Homes and Gardens magazine in April 2010. I stuck pretty closely to the recipe, since baking is truly a science.
chocolate peanut butter cake
Chocolate Peanut Butter Bundt with Salted Caramel Drizzle
Here's how I made the cake:
Chocolate Peanut Butter Bundt Cake with Salted Caramel Drizzle (serves 8-10)
Ingredients for Cake
Nonstick cooking spray (I used organic olive oil spray)
2 cups of all-purpose flour
4 teaspoons of baking powder
1/2 teaspoon of baking soda
1/4 teaspoon of salt
1/8 teaspoon of ground cinnamon
1/2 cup of butter, softened (not melted)
1 1/4 cups of pure cane granulated sugar
2 eggs
3/4 cup of sour cream
1 teaspoon of pure vanilla extract
1/3 cup of milk
1/3 cup of dark chocolate chips, melted
1/2 cup of creamy natural peanut butter (ingredients are only peanuts and salt)
Ingredients for Salted Caramel Drizzle
1/4 cup of butter
1/4 cup of packed pure cane brown sugar
1/4 cup of pure cane granulated sugar
1/2 cup of whipping cream
1/2 teaspoon of sea salt
To make the cake:
1. Preheat oven to 350 degrees. Lightly spray 10-inch bundt cake pan with cooking spray, and set aside. In a medium bowl, combine flour, baking powder, baking soda, salt and cinnamon, and set aside
2. In a large mixing bowl, beat butter on medium-low speed for 30 seconds (I used my stand mixer). Add sugar and beat until fluffy. Add 1 egg, and beat on medium-low speed for 1 minute (scraping the bowl frequently). Add the other egg, and beat on medium low speed for an additional minute (continuing to scrape the bowl). Beat in sour cream and vanilla. Alternate adding the flour mixture and the milk to the butter mixture. Continue beating on a low speed as you add the flour and milk until just combined.
3. Divide batter into 2 bowls. Stir melted chocolate into half of the batter until combined. Stir peanut butter into the other half of batter until combined.
4. Drop spoonfuls of batter into the prepared pan, alternating between the chocolate batter and peanut butter batter. Use a butter knife to gently swirl the batters together, being careful not to overmix the 2 batters.
5. Bake at 350 degrees for 40-45 minutes until a wooden toothpick inserted near the center of the cake comes out clean. Cool 15 minutes on a wire rack. Then, remove the cake from pan and cool completely on the wire rack.
To make the sauce:
In a small saucepan, melt butter over medium-low heat. Stir in packed brown sugar and granulated sugar. Bring to a boil while stirring constantly. Stir in whipping cream, and return to a boil. Gently boil for 2 minutes while stirring constantly. Remove from heat, and stir in sea salt. Cool completely.
Drizzle about half of the cooled caramel sauce over the cake before serving. Sprinkle the cake with sea salt if desired. Serve the remaining caramel sauce on the side for guests to drizzle over their individual slices of cake.
I enjoyed making this cake for Christmas, but it's a perfect treat for any time of year. Don't forget that Valentine's Day is coming up…make this cake for your sweetie!