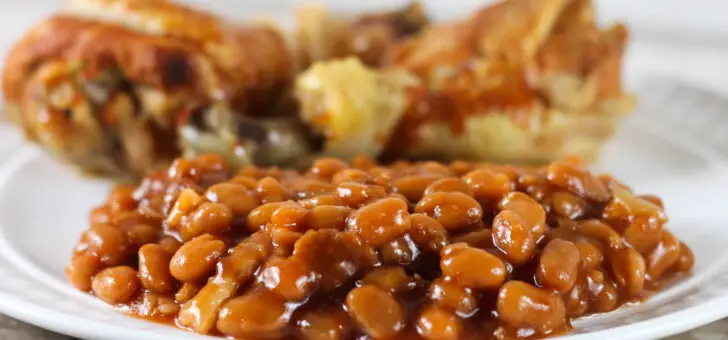 My 1 year old loves baked beans…and I mean LOVES baked beans.  And since beans are packed with protein, fiber and other nutrients, I definitely want to encourage this fondness of beans.  For a while now, I have been thinking about making homemade baked beans instead of buying them in a can.  The ones in a can usually have added caramel color and "natural flavors."  (I love how they don't even have to tell you where those "natural flavors" even come from.)  Since I like to know exactly what is in my food, especially the foods I feed my children, I thought making beans from scratch could be a good idea for our family.
I've been reading the blog 100 Days of Real Food  for a while, and they always post recipes that sound delicious.  I decided to give their slow-cooker baked bean recipe a try this weekend.  Of course I had to tweak it a little bit to suit my taste.
I won't say that this is a quick recipe (10 hours in the slow cooker isn't exactly a quick meal), but if you take a few minutes to prep the night before it can be pretty easy to make on a weekday.  Grill up some hormone-free hot dogs on whole wheat buns and serve alongside watermelon slices, and you have a meal the whole family will enjoy!
Here's how I made the recipe…and how it turned out:
Baked Beans (serves 8-10 as a side dish)
Ingredients
2 1/2 cups dried navy beans (I soaked them in water overnight in the fridge, drained and rinsed them)
4 slices of bacon, cooked and diced
1 red bell pepper, diced
1/2 sweet onion, minced
15 oz can tomato sauce
1/2 cup pure maple syrup (since maple syrup is expensive, I cut back on the amount)
1/4 cup molasses (I used molasses in place of the maple syrup I cut back on)
3 tablespoons yellow mustard
3 tablespoons apple cider vinegar
1 teaspoon chili powder
1 teaspoon salt
fresh cracked black pepper, to taste
5 cups of water
I prepped everything the night before we planned to eat the beans.  I put the beans to soak in water in the fridge overnight.  I fried and diced the bacon.  I used my food processor to chop the pepper and the sweet onion.  To make things easy, I put the bacon, pepper and onion in the bowl of my slow cooker (my Crock Pot has a removable ceramic bowl), put the cover over it and put the whole thing in the fridge (so I could just pull it out and put it into the slow cooker in the morning).
Then in a medium bowl, I mixed the tomato sauce, maple syrup, molasses, yellow mustard, cider vinegar, chili powder, salt and pepper with a spoon to make the sauce.  I covered the sauce and put it in the fridge overnight.  Everything was prepped and ready to go for the next day!
In the morning, all I had to do was drain and rinse the beans, add them to the ingredients that were already in the slow cooker bowl, put the bowl in the slow cooker, and pour the sauce over everything before I added the 3 1/2 cups of water that the original recipe calls for.  Once everything was ready, I did mix everything with a spoon before turning the slow cooker on HIGH for 10 hours.
I have never cooked anything on high for that long, so after about 5 hours I started checking the beans to make sure they weren't low on liquid.  Over the last 4 hours or so of cooking, I had to add about 1 1/2 additional cups of water so the beans wouldn't burn to the side of the slow cooker bowl.  Everyone's slow cooker is different.  If you aren't able to check on your beans about halfway through cooking and you know your slow cooker tends to burn things and/or use up all the liquid, I would put about 5 cups of water in at the beginning (instead of only 3 1/2 cups).
The results
I served the beans after about 10 hours of cooking, and they turned out tender and tasty!  My 1 year old ate them along with everyone else in the family, so I would say they were a success.  To me, these weren't as sweet as the ones made with brown sugar that come in a can.  I'll probably keep experimenting to see if we can find our favorite baked bean recipe.
I have more dried navy beans…does anyone have any baked bean recipe recommendations that I should try next?!