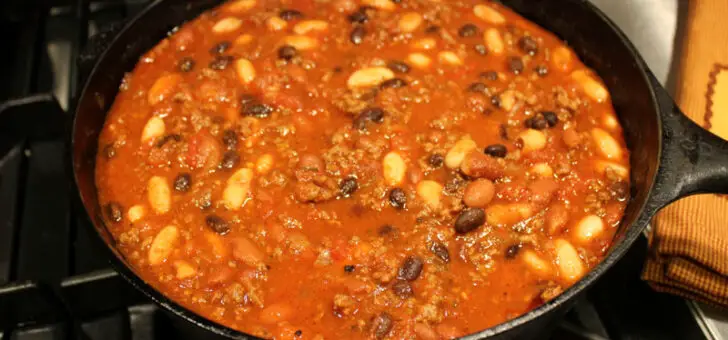 As much as I love hot summer days and long summer nights, I often refer to fall as my favorite time of year. I think of it as the kickoff to the holiday season (and I love the holidays). Who doesn't love the bold and rich colors and flavors of fall? You know it's really fall when the leaves start changing, the weather turns cool, and you have your first steaming hot bowl of chili.
Chili is the perfect fall food. A steaming bowl of spicy chili warms the body and the soul. The weather this weekend was cool and rainy, so we warmed ourselves up with our first pot of chili for the season. My chili recipe is an adaptation of my mom's chili. She makes great chili (my husband requests it regularly), and her recipe is a classic. The changes I have made are small, but the flavor suits our family. Even my 3 year old eagerly scooped her bowl clean!
Here's how I made the chili:
Big Pot O' Chili (serves 6-8)
Ingredients
3 sweet onions, peeled and chopped
5 cloves of garlic, minced
1/4 cup of olive oil
1 1/2 teaspoons of oregano
3 lbs of ground beef
1/4 cup + 2 tablespoons of chili powder
1 14.5 oz can of diced tomatoes (I used petite diced tomatoes)
3 teaspoons of salt
5 tablespoons of cider vinegar
1-2 tablespoons of crushed red pepper (or more or less depending on how spicy you want it)
6 oz of good beer (I use New Belgium Pumpkick Ale) or water
1 can of red kidney beans, drained and rinsed
shredded cheddar cheese
hot sauce
sour cream
I sauteed the onions and garlic in olive oil in a large pot over medium heat for 10 minutes, stirring occasionally, until golden. Then, I added the oregano and beef to the pot to brown with the onions and garlic, breaking it up with a wooden spoon. Once the beef was browned, I drained the beef (just enough to let allow the fat to run off), returned it to the pot, and added the chili powder, tomatoes with liquid, salt, vinegar, crushed red pepper, and beer/water. Simmer, covered, over low heat, stirring occasionally. I let the chili simmer for 1 1/2 – 2 hours. We served our steaming bowls of chili topped with kidney beans, shredded cheese, hot sauce (for the grown ups) and sour cream.
The great thing about this recipe is that you can easily make changes to suit your taste. Add more liquid (beer or water) if you like your chili a little soup-y. Add more crushed red pepper or hot sauce if you like your chili spicy (I make it mild for the kids). If you don't want to use beer (I like the flavor of the spices in the pumpkin beer, and the alcohol cooks off over the hours of simmering), you can use water or beef broth. Feel free to get creative!
We filled up on chili and had plenty of leftovers. This chili freezes well and reheats perfectly on the stove (just add a little water or beer if it's thick). We already can't wait to warm up with chili all fall and winter!