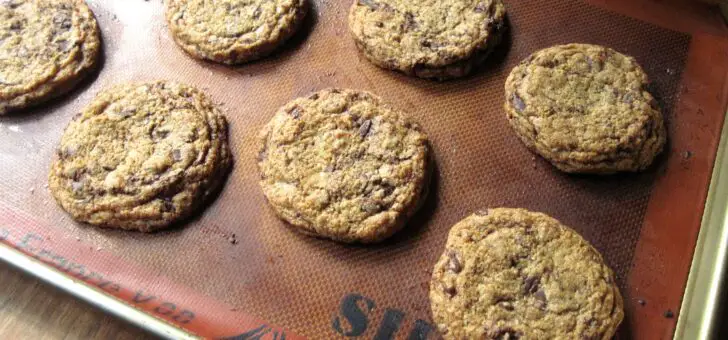 Sorry I've been MIA.  I went out of town, and then my whole family was sick.  First, my daughter came down with early pneumonia, then my son got an ear infection, a sinus infection and bronchitis.  THEN, I also came down with a sinus infection!  Ugh!
Luckily, now we are all on the mend.  I did skip my Wednesday grocery shopping, so there wasn't a Grocery Grab Wednesday this week.  I'm sure I'll have a good one this Wednesday to make up for it.
Today, I wanted to share a really great recipe for 100% whole wheat cookies.  No, this isn't a family recipe handed down from generation to generation…this is your good, old-fashioned Nestle Tollhouse recipe.  BUT I use white whole wheat flour.
Did you know that white whole wheat flour is still 100% whole wheat?  It's a lighter, milder-tasting variety of wheat, but it still has all the whole grain goodness of 100% whole wheat.  I use King Arthur White Whole Wheat.  My husband and kids don't even realize my chocolate chip cookies are packed with fiber.
Here's how I make the chocolate chip cookies:
100% Whole Wheat Dark Chocolate Chip Cookies (makes approx. 4-5 dozen cookies)
Ingredients
2 1/4 cups of white whole wheat flour
1 teaspoon baking soda
1 teaspoon salt
2 sticks (1 cup) butter, softened
3/4 cup pure cane granulated sugar
3/4 cup packed pure cane brown sugar
1 teaspoon pure vanilla extract
2 large eggs
10 oz package (1 2/3 cups) dark chocolate chips (I use Nestle Tollhouse Dark Chocolate Chips)
1. Preheat oven to 375 degrees.
2. In a medium bowl, combine flour, baking soda, and salt.
3. In a large mixing bowl, beat together butter, granulated sugar, brown sugar, and vanilla until creamy (I use my stand mixer).
4. Beat in eggs, one at a time, until well mixed.  Then, gradually beat in flour mixture.
5. Stir in chocolate chips until well combined.
6. Drop rounded teaspoonfuls of cookie dough on ungreased cookie sheets.
7. Bake for 9-11 minutes until golden brown.  Cool on cookie sheets for 2 minutes, then remove to a wire rack to cool completely.
Even though these cookies are 100% whole wheat, they are still especially soft and chewy. My husband, who is especially leery of "healthy" foods, came back for seconds…and my kids were begging for more! If you like soft chocolate chip cookies, just make sure you don't over-cook them.  I promise you won't regret using the whole wheat flour.  Between the Nestle Tollhouse recipe and the King Arthur Flour (and I promise they do not sponsor my blog!), you really can't go wrong.