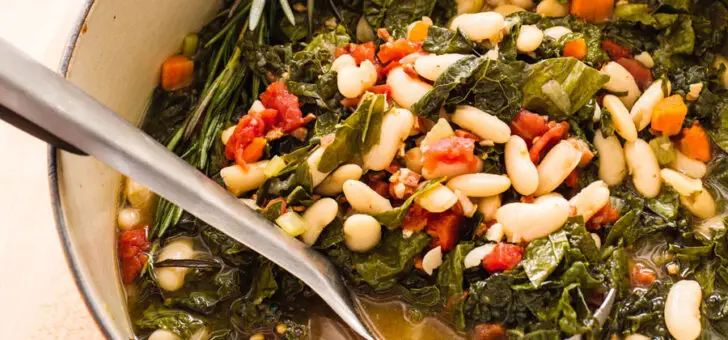 If you've been watching what I buy on Grocery Grab Wednesdays, you may have noticed that I love to stock up beans from the bulk bins when the go on sale.  Since I try to feed my family healthy meals AND save money, beans are a perfect staple in our house.  Beans provide protein, fiber and antioxidants, so I think that qualifies beans as a super food.
I'll admit, my kids are a little wary of beans.  But they are also wary of most vegetables and a lot of meats, so this isn't surprising.  I try to cook beans in a variety of ways to expose them to different styles and flavors…you never know what kids will suddenly develop a taste for!
While flipping through my new Not Your Mother's Slow Cooker Cookbook, I found a really simple recipe for Zuppa Bastarda.  The simplicity of the recipe was really what caught my eye (and the fact that I already had most of the ingredients in my kitchen).  The recipe called for borlotti beans (or cannelini beans), which I didn't have.  I made a few substitutions (I mean, when do I ever follow a recipe word for word?) , and ended up with what I thought was an AMAZING bean soup.  Believe me…you've gotta try it!
Here's how I made the soup:
White Bean Zuppa Bastarda (serves 8)
Ingredients:
1 pound of dried navy beans, sorted and soaked overnight in cold water (enough to cover the beans) and drained
1 sweet onion, chopped
3 cloves of garlic, minced
2 teaspoons of dried sage
salt and pepper, to taste
8 slices of toasted bread (I used whole grain sourdough brushed with olive oil and toasted in the oven)
extra virgin olive oil
shredded cheese (I used a Parmesan-Romano blend, but Asiago would also be great)
Before you start this recipe, be prepared for it to take 7-9 hours total in the slow cooker.  I misread the instructions and almost under cooked my beans!
I put the drained beans in the slow cooker, and filled the slow cooker with enough water to cover the beans by about 4 inches.  Then, I added the onions and garlic.  I covered the slow cooker and cooked the soup on LOW for about 6 hours (the recipe says 5-7 hours).  Then, I added the sage and cooked the soup on LOW for about another 2 hours until the beans are tender.  I seasoned the soup with about 1 teaspoon of salt and about 1/4 of a teaspoon of fresh cracked black pepper…but you can season to your taste.
To serve the soup, I placed a slice of toasted bread in each bowl and ladled soup over the bread.  Then, I liberally drizzled the soup with olive oil, cracked black pepper over each soup bowl, and sprinkled the soup with cheese.
Even though this soup is very simple, it turns out very flavorful.  The beans are tender and buttery, and the olive oil and salty cheese really add a melt in your mouth factor to this soup.  The soup is warm and hearty enough for a winter dinner, but it would also be perfect with a crisp side salad for a summertime soup and salad lunch.  You can also freeze this soup (and even freeze sliced bread, separately, as well), and defrost it for a quick meal anytime you like.  This recipe will definitely make its way into regular rotation at my house!