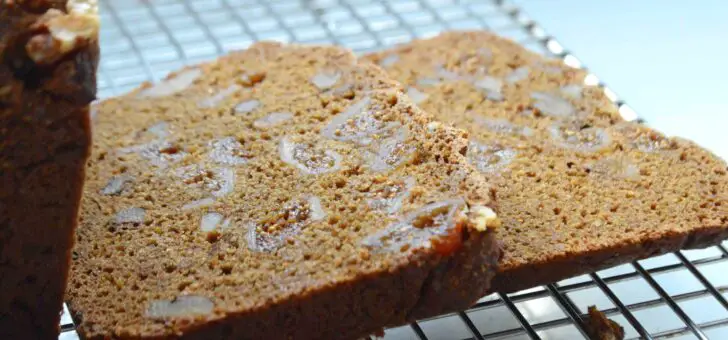 One kitchen item I have been dying for is a bread machine.  I love the idea of having homemade bread in the house without all of the hands-on time that making bread from scratch usually requires.  I have been dropping hints that a bread machine would be a great gift for me (hint, hint), but I am currently still without one…so until I get one, I've been getting creative.
After years of making variations of banana bread, I feel pretty confident in my ability to make quick breads.  While baking is usually a science, I have found that quick bread recipes are fairly easy to manipulate.  I regularly make substitutions in quick bread recipes to make healthier breads (and to suit my tastes).  However, I have only made sweet quick breads…until recently.
I found a whole grain quick bread recipe online that sounded wonderful…and easy.  I wouldn't call a whole grain bread made with a bit of honey a savory bread, but it definitely is not as sweet as the banana chocolate chip breads I usually make.  The original recipe for this bread uses ingredients I already had in my kitchen, so I figured it couldn't hurt to give it a try (with a few changes, of course)!  I whipped up a loaf of bread, served it with spaghetti, and was pleased with the results! Here's how I made the bread:
Hearty Whole Grain Quick Bread (makes 1 loaf)
Ingredients
2 cups of whole oats (I left the oats whole, but you can grind them into flour if you prefer)
2 cups of 100% white whole wheat flour
1/2 cup of ground flaxseed meal (optional)
1 tablespoon + 1 teaspoon of baking powder
1 teaspoon of salt
3 tablespoons of honey
2 tablespoons of olive oil
2 cups of milk
1. Preheat oven to 325 convection bake or 350 regular bake.  Spray loaf pan generously with olive oil cooking spray (or grease the pan however you prefer).
2. Combine oats, wheat flour, baking powder and salt in a large bowl.  In a medium-sized separate bowl, combine honey, olive oil, and milk.  Whisk the wet ingredients until the honey is dissolved (as best you can).  Add the wet ingredients to the dry ingredients, and stir until well combined.
3. Pour the dough into the prepared loaf pan, and bake for 45 minutes to 1 hour until the loaf sounds hollow when tapped on the bottom side (mine took right around 45 minutes with convection bake).  Remove from pan, and cool on a wire rack.
I served the bread with butter alongside spaghetti.  It was definitely not your traditional Italian bread, but I quite enjoyed the heartier flavor and texture.  Since this is a simple bread, it could be served with almost anything.  It is also perfect as a breakfast bread with a little bit of butter or honey (or honey butter)!  My carb-loving 1 year old ate every bite and begged for more!
I definitely plan on making this bread regularly.  I love that this can be made with ingredients I usually have in my kitchen, so I can make this bread on a whim in less than an hour!  That's better than running to the grocery store just for a loaf of bread to have with dinner