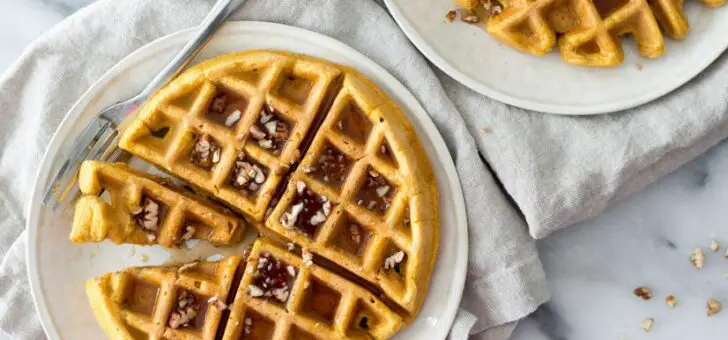 le syrup.  I used this recipe, but I substituted pumpkin pie spice for the other spices.  I also used my regular (square) waffle iron instead of a belgian waffle iron. This recipe is so easy and yummy, it'll make you want to never use pre-made waffle mix again! Here's how I made the waffles:
Pumpkin Spice Waffles (makes 8-10 waffles)
Ingredient
1 1/2 cups flour (I use a 50/50 mix of white and whole wheat)
3 teaspoons of baking powder
1/2 teaspoon of baking soda
3 teaspoons pumpkin pie spice (or 1 tsp each of cinnamon, nutmeg, and ginger)
1 pinch of salt
2 eggs
1/4 cup of firmly packed brown sugar
1 cup canned pumpkin
1 2/3 cups of milk
4 tablespoons of butter, melted
1. I mixed together flour, baking powder, baking soda, spices and salt in a medium bowl.
2. In my stand mixer bowl, I beat together the eggs, brown sugar, pumpkin, milk and butter until well combined.
3. I gently added the dry ingredients to the wet ingredients while stirring.
4. I allowed my waffle iron to heat up while I let the waffle batter rest.
5. I sprayed my waffle iron with coconut oil cooking spray (to prevent sticking), and cooked the waffles according to my waffle iron's instructions.  (Generally, I cook waffles 4-5 minutes until the steam slows down and the waffles are toasty and golden brown.)
6. Serve with real butter and pure maple syrup…or however you like your waffles!I like to flash freeze any leftover waffles (freeze them on a baking sheet for 1 hour and then transfer them to a large freezer bag).  During the week, we can reheat these waffles fast in the toaster for a breakfast treat.  My kids loved these waffles, and happily devoured a serving of pumpkin!
You can also get creative with lunch by layering 2 thawed waffles together with cream cheese or peanut butter spread in the middle for a fun sandwich!