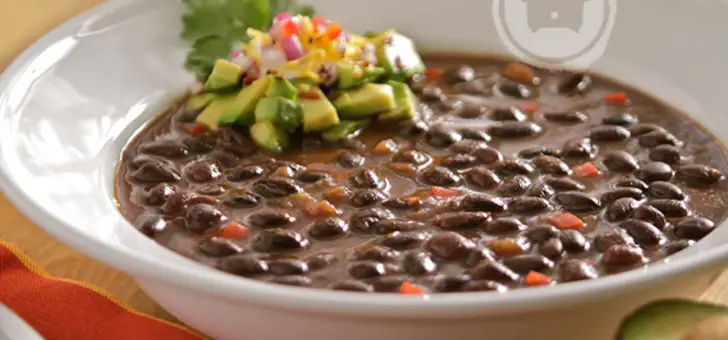 Beans are such a versatile dish.  Since they can serve as a main dish or a healthy side, I tend to make them a lot…and in large quantities.  I love to freeze cooked beans because they can easily be reheated in a hurry!
This weekend I decided to make my favorite slow cooker black beans alongside some very tasty pork green chili sausages.  The black bean recipe is supposed to be Cuban, so I thought it would pair perfectly with the spicy pork sausage(and it turned out to be a great combo).
This recipe is easy and delicious.  It comes from my Betty Crocker's Easy Slow Cooker Dinners cookbook, and I don't deviate much from the recipe because it turns out perfectly when the directions are followed.
Here is how I make the black beans:
Slow Cooker Black Beans (serves 6)
Ingredients:
2 cups dried black beans (sorted and rinsed)
1/2 large sweet onion, chopped
1 red bell pepper, chopped
6 cloves garlic, minced
2 bay leaves
14.5 oz can diced tomatoes, undrained
5-6 cups of water
2 tablespoons olive oil
4 teaspoons ground cumin
2 teaspoons minced jalapeno
1 teaspoon salt
Mix all ingredients in slow cooker.  Cover and cook on HIGH for 6-8 hours until beans are tender, and remove bay leaves before serving.
I cooked the beans for 8 hours.  After 6-7 hours, they needed 1 additional cup of water so the beans wouldn't burn to the side of the slow cooker.  This makes 6 servings as a main dish or 8-10 servings as a side dish.
If you want to do all of the prep the night before, I would put all of the ingredients except the beans, tomatoes, oil and water in the bowl of the slow cooker (mine has a removable bowl) and refrigerate overnight.  In the morning, just rinse the beans and add them to the slow cooker with the tomatoes, oil and water to start cooking!
I like these beans as a side dish served with pork and rice, but they also make a great main dish served over rice and sprinkled with cheese, hard-boiled eggs and chopped onion.  The leftovers are great as a filling for burritos, enchiladas, etc.  My husband and I even had leftover beans with chorizo, eggs and toast for breakfast!