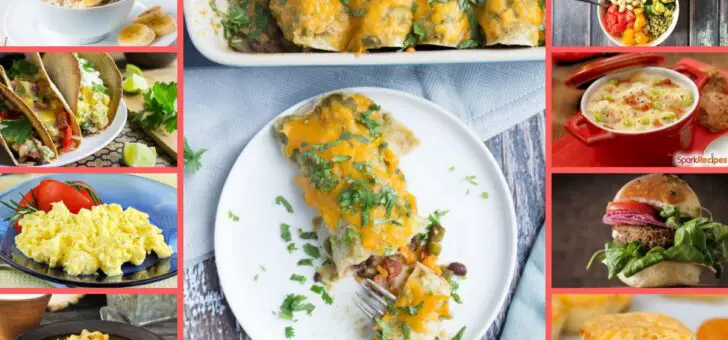 Meatless Monday is the idea of forgoing meat one day of the week (Monday).  By eating vegetarian one day a week, you can trim your grocery budget a bit (good quality meats can be expensive).  My children aren't huge meat eaters, so this week I decided to give Meatless Monday a try.
I saw a Facebook post by Live The Smart Way for black bean and quinoa stuffed peppers.  We didn't have quinoa in the house, but we did have brown rice!  The substitute worked great (along with a few other small changes to the recipe, as usual), and with a little bit of prep dinner was ready in a snap!
Here's how I made our stuffed peppers:
Black Bean and Brown Rice Stuffed Peppers (Serves 3-4)
Ingredients
3 medium-large red bell peppers cut in half lengthwise (raw if you like them crunchy, quickly steamed if you like them softer)
1 cup cooked brown rice (or quinoa)
1 can (1 1/2 cups cooked) black beans, rinsed and drained
1/2 cup salsa (we used organic store-bought salsa)
fresh chopped basil to taste (we used 10 leaves)
1/2 cup grated cheese (we used rBST-free white cheddar)
toppings – sour cream, salsa, hot sauce, etc
Preheat oven to 350 degrees.  Spray a 9×13 baking dish with cooking spray (I used organic olive oil spray). Place bell pepper halves in the dish with open sides up.  Combine the brown rice, black beans, salsa, basil and 1/4 cup of the cheese in a medium bowl. Spoon mixture into pepper halves.  Sprinkle the remaining cheese over the stuffed pepper halves.  Cover with aluminum foil.  I sprayed the side of the foil touching the peppers with cooking spray so the cheese wouldn't stick.  Bake at 350 degrees for 30 minutes.  Top with sour cream, salsa, hot sauce and/or anything else you like!
You can even do all of the prep the night before (everything except the cooking part) and keep the stuffed peppers in the fridge until dinnertime.  Just pop them in the oven about 30 minutes before you want to eat, and snack on some healthy guacamole until it's ready!
The reviews in my family were mixed for this recipe.  I really enjoyed it, but I love veggies…especially red peppers and black beans.  My husband said he liked it, but I could tell he would have rather had something with meat in it.  We could easily serve this as a side with pork sausages in the future.  My kids ate a few bites, then moved on to the fruit I always put on their plates.  Neither of them are huge veggie or rice lovers, so I count them trying it as a win.
I think this recipe would be great with some corn thrown in as well.  It easily serves 2 adults and 2 kids.  Plan on each adult to eat 2 halves and each kid to eat 1 half.  Tortilla chips (organic if you are avoiding gmos) and guacamole would be perfect on the side.