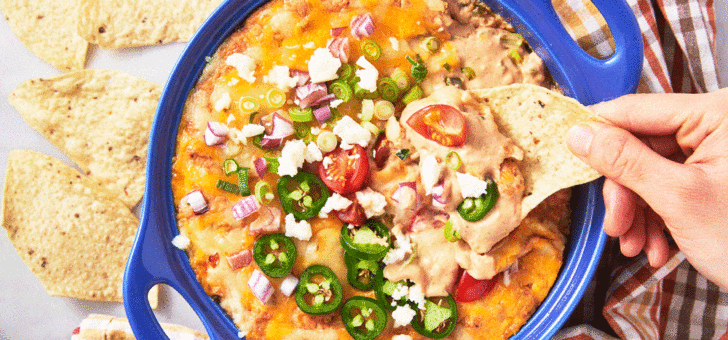 This weekend, I had every intention of making pimento cheese to snack on while we watched football…until I opened up my jarred pimento to find it looking a little funny.  Actually, it looked inedible.  For a moment, I considered dropping everything to run to the store for an emergency pimento purchase.  Instead, I decided to get creative.
I got lucky, because I had leftover BBQ Beans that I had made for a potluck.  Those beans mash up perfectly for homemade refried beans.  Between the cheese I had already grated (for the ill-fated pimento cheese) and the beans, I figured I had the makings for bean and cheese spread.  All I needed was to get creative with a few other ingredients…
Here's how I made the spread:
Game Day Bean and Cheese Spread (serves a small crowd)
Ingredients
8 oz of shredded extra sharp white cheddar
2 cups of mashed BBQ Beans (or 1 can of refried beans)
4 oz of cream cheese
1/3 of a cup of dark beer, optional (I used Breckenridge Brewery Autumn Ale
Mix all ingredients in a medium-sized dish.  Refrigerate for at least 2 hours to allow the flavors to mingle.  Serve with tortilla chips, pretzels or crackers.
The bean and cheese spread ended up being amazing!  I felt that the beer gave it amazing flavor (even if it did make it an adults-only snack). The beer is an optional ingredient, but I definitely think it's worth adding for the flavor.