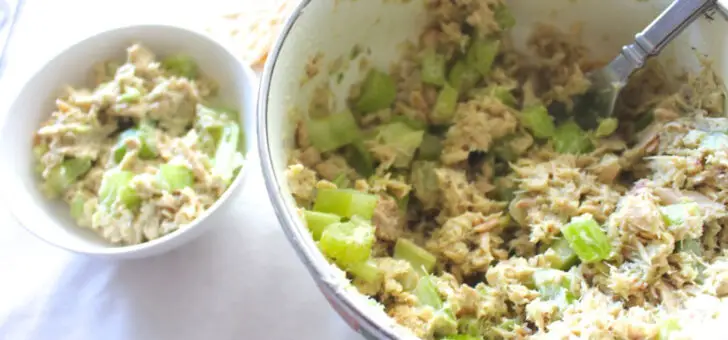 I'll admit it. I have a 3 year old and a 1 year old, and until today they had never eaten fish. They have been offered fish. It has been on their plates. They had just never actually eaten it until today. I'm not the type to force my kids to eat anything, so they've never put fish in their mouths. But today that all changed.
We have been trying to get creative with lunch ideas lately. That's a bit tough at times when all my kids want to eat are things that are familiar with them. To compromise, I've been trying to put new foods on their plates alongside familiar foods. They love sandwiches, so today I decided to try a Kid-Friendly Tuna Salad recipe (as usual, I made a few small changes). This recipe uses cottage cheese instead of mayo. Not that I have a problem with mayo, but I was looking for a change of pace from the usual tuna with mayo and pickles. Cottage cheese turned out to be a good substitute!
Here's how I made the tuna salad sammies:
No Mayo Tuna Salad Sammies (Serves 2-3)
Ingredients
5 oz can of chunk light tuna packed in water (drained)
1/4 cup of cottage cheese
3 tablespoons of raisins
1 tablespoon sunflower seeds (no shells)
1 tablespoon grated carrots (approx 2 baby carrots)
Mix all ingredients in a medium bowl. Serve however you like. It's that easy!
We served the tuna on honey whole wheat bread, but it would be great spread on crackers or a bed of lettuce.
My 1 year old was hesitant to try the tuna, but ended up eating several bites. My 3 year old also ate several bites and said it was good (though she didn't finish the entire sandwich). I think if we put this recipe into our regular lunch food rotation, they will warm up to it even more. I really enjoyed my sandwich…the raisins were a nice touch of unexpected sweetness and the sunflower seeds added a good crunch!
I would consider this recipe a success. Many times children need to try a food 10-15 times to truly decide whether or not they like it. We will keep trying with tuna!