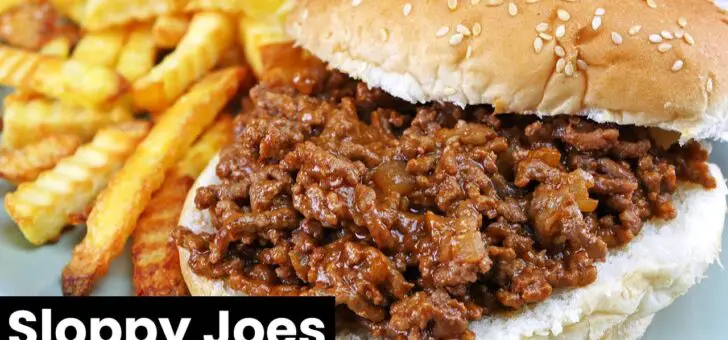 Sloppy Joes make me happy.  They are among the ultimate comfort foods, and I am always reminded of childhood when I eat them.  How can you not feel a little bit child-like when chowing down on a food that you are actually encouraged to make a mess with while eating?
Not only do I love them, but my kids will actually eat them….and enjoy them!  We call them Sloppy Josies in our house, after my daughter who loved eating them as soon as she could chew solids.  In fact, she will still eat them willingly, and she rarely eats meat without a little parental begging.  And the kids love that they can get messy with their food.  We don't call them Clean and Tidy Joes!
I make my Sloppy Josies using ingredients I usually have around the house, so they end up being super easy and super cheap since I only have to buy ground beef and buns.  This recipe only takes a few minutes longer than a recipe using canned sloppy joe sauce, but these sloppy joes are worth the extra time because you know exactly what is in them (no weird stuff) and you can adjust the sweetness and tangy-ness to your own tastes.
Here's how I make the sloppy joes:
Sloppy Josies (serves 4-6)
Ingredients
1 pound of ground beef
1/2 of a yellow onion, finely chopped (kids usually don't like big chunks of onion)
1/2 teaspoon of garlic powder
1 teaspoon of prepared yellow mustard (any good sandwich mustard will do)
1 cup of ketchup (I use organic or a good quality all-natural ketchup made without high-fructose corn syrup)
3 teaspoons of brown sugar (or less, to taste)
salt
In a frying pan, cook the beef and onions over medium heat until brown; drain.  Return the meat to the pan, and stir in the garlic powder, mustard, ketchup, and brown sugar (3 tablespoons of brown sugar makes a sweet sauce.  Add less for sauce that is less sweet and more tangy…and you can even add a splash of cider vinegar for extra "tang.")  At this point, I also add 2-4 tablespoons of water for a "saucier" sauce.  Lower the heat, and simmer for about 20 minutes until the sauce is hot and slightly thickened.  Add salt and pepper to taste, and serve on buns.
This recipe is great for a fast, traditional sloppy joe…you'll never want to go back to the canned stuff!  My husband and I ate our Sloppy Josies with salad on the side.  The kids had Sloppy Josie sliders (I cut the buns into quarters, and served each child 2 bun quarters filled with meat) with carrots and radishes with ranch for dipping as well as blackberries and apple slices.