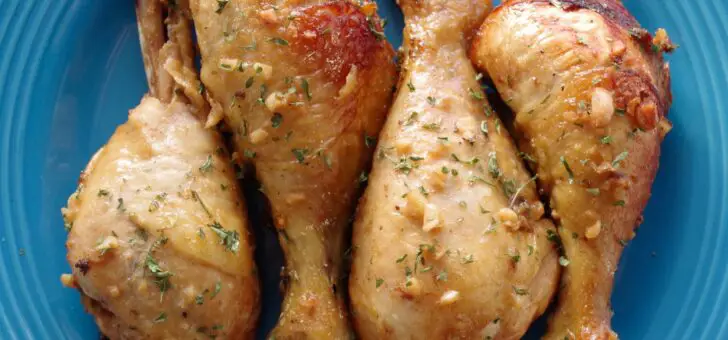 Dinnertime can get hectic, so I am always looking for new slow cooker recipes to try. I love that I can just throw the ingredients in the Crock Pot sometime in the morning and by dinnertime we have a hot dinner ready and waiting!
This week I wanted to use chicken legs from the freezer, so I did an Internet search for slow cooker chicken legs. I found a Crock Pot Super Garlic Chicken Legs recipe that sounded good, so I decided to give it a try. The chicken legs defrosted in the fridge for about 24 hours, and then they were ready to use.
Here's how I made the chicken legs:
Slow Cooker Garlic Chicken Legs (Serves 4-6)
Ingredients
6 chicken legs, skins removed (you could make more or less, I had 6 chicken legs in the package I froze)
20 cloves of garlic (leave the skins on or they will get mushy while they are cooking)
3 tablespoons olive oil
1/2 teaspoon salt
1/2 teaspoon pepper
1 teaspoon dried herbs (I used rosemary, but next time I would use basil or Italian seasoning)
1/4 teaspoon red pepper flakes (optional, if you like a little extra spice)
1-2 cups water or chicken broth (I used water because I didn't have broth)
Pour 3 tablespoons of olive oil in a medium bowl. Combine salt, pepper, herbs and red pepper flakes (if desired) in another medium bowl. Coat skinless chicken legs in olive oil and roll in spice mixture. Place chicken in slow cooker, and surround the chicken with the garlic cloves. Pour 1-2 cups of water or broth over the chicken and garlic (I started with 1 cup but ended up adding at least 1 more cup of water so the chicken and garlic wouldn't burn…and I also like to have extra cooking juices to pour over the chicken when I serve it). Cook 8 hours on low.
When I served the chicken, the meat was falling off of the bone (which I loved). I served the chicken with broccoli and brown rice, and I drizzled the cooking liquid over everything for extra flavor. You can also take the skins off of the garlic cloves and serve them alongside the chicken. I don't think my kids would go for eating the garlic cloves, but they did try the tender chicken and everyone loved the cooking juices.
I would recommend buying a whole wheat baguette and spreading the cooked garlic on the bread (just remove the skins from the garlic cloves first). I didn't do this, but next time I definitely will because the cooked garlic cloves smelled so good! I am planning to make this recipe again. It would be great with chicken thighs or chicken breasts too.