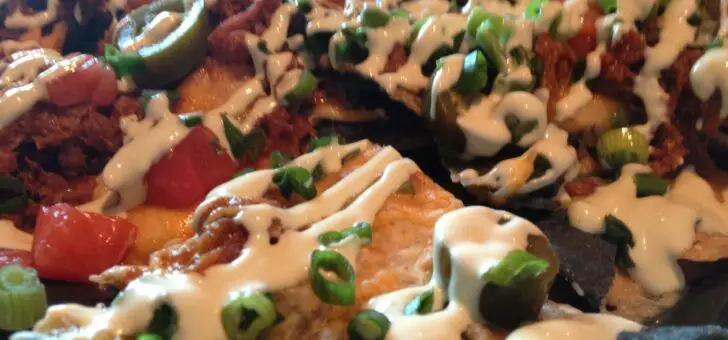 Last night I wanted to use up our leftovers from when I made Mexican Pork in the slow cooker a few nights ago. I didn't have much time, so I needed to make something that didn't involve a lot of prep. I had our usual go-to Mexican food ingredients (organic corn tortilla chips, salsa, sour cream, and cheese), so it sounded like a good night to make pork nachos!
The Mexican Pork Recipe is great for a lot of Mexican dishes, but the tender pork topping on the nachos is really what makes these nachos melt in your mouth. The pork is shredded and falls apart easily…and it has tons of flavor.
Here's how I made the nachos:
Melt-In-Your-Mouth Pork Nachos (Serves 2-3)
Ingredients
1 cup Warm Mexican Pork (leftover and reheated on the stove or freshly made in the crock pot)
Tortilla Chips, approx 1/3 bag (I like organic to avoid GMOs)
1/2 cup grated cheese
1/4 cup salsa
1/4 cup sour cream
1/2 of a tomato, chopped (optional)
Preheated oven at 350 degrees. I spread a layer of tortilla chips on a baking sheet lined with foil and sprayed with cooking spray (organic olive oil). Using my hands, I crumbled the warm pork over the chips and spread it evenly. I used my hands to also sprinkle the cheese evenly over the chips and pork. Using a spoon, I drizzled everything with salsa as evenly as possible. The whole thing went into the oven for 5 minutes until the cheese was melted and the chips were beginning to brown a bit on the edges (making sure not to let them burn).
The nachos easily served 2 adults and 2 small children when we added other fruits and veggies on the side to fill us up and balance out the meal.
I served the nachos on small plates for each person with the sour cream and chopped tomato on the side (so each person could top the nachos how they like). You could also serve them with sliced black olives, shredded lettuce and guacamole. These nachos would be great for a gathering (just make a bigger batch).
My husband and I also had salads on the side. The kids had fruit. Since the Mexican Pork recipe also has a healthy amount of black beans in it, I felt that served as a veggie for the kids.
This dinner definitely felt like a splurge to us. It isn't everyday we have baked nachos for dinner…it almost felt like we were out at a restaurant! But the majority of the ingredients were what I would consider components of a healthy dinner (the chips were definitely a treat), so I didn't feel guilty serving it to my family. We enjoy our splurges, and it certainly goes with my philosophy of allowing everything in moderation.