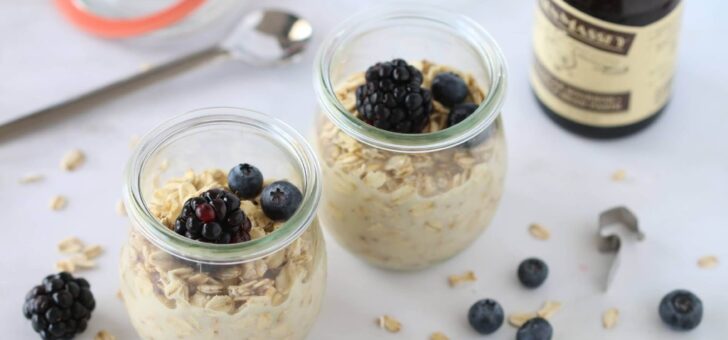 In our house, we make a lot of oatmeal. However, in the summer sometimes we are just in the mood for cold foods in the morning…cold milk and juice (for the kids), iced coffee or iced tea (for the grown ups), cold cereal and fresh fruit. It seemed like a no-brainer that cold oatmeal would be a good idea too!
I love the Swiss Oatmeal that they serve at the Corner Bakery, so I went searching online for a good, simple cold oatmeal recipe. I was overwhelmed by the number (and variety) of recipes that were available. Lauren Conrad's website had a great basic recipe for overnight oats, so I decided to start with trying that one. I made a few changes to suit my tastes and excitedly set my overnight oats in the fridge until morning.
Here's how I made the overnight oats:
Simple Vanilla Overnight Oats (serves 2)
Ingredients
2/3 cup milk
1/2 cup old-fashioned rolled oats
1/2 cup plain yogurt
1/2 teaspoon vanilla
1 teaspoon cinnamon (optional)
drizzle of honey (optional)
2 tablespoons raisins (optional)
2 tablespoons dried cranberries (optional)
1/2 banana, cut into bite-sized pieces (optional)
I combined all of the ingredients except the banana in a glass bowl with a lid, mixed until all ingredients were well incorporated, and set the oats in the fridge (covered) overnight. In the morning, I scooped the oats into a small bowl and incorporated the bite-sized pieces of banana. Then, it was ready to eat!
This recipe makes enough for 2 servings, so you can serve 2 people or save a helping for the next day (I did this, and the oats were still great).
The most basic ingredients you need for this recipe are the milk, old-fashioned oats, and yogurt. You can substitute dairy-free milk and dairy-free yogurt if you like. Almond milk would give this recipe a great nutty flavor. You can also customize this recipe by increasing or decreasing the other ingredients to suit your taste. There are so many options for toppings and mix ins – walnuts, almonds, chopped apples, etc. I found recipes that used chia seeds, cocoa powder, and even peanut butter!
I LOVED my overnight oats, and the recipe is very kid-friendly too. Since you make it the night before, it is quick and easy. I love a simple, healthy breakfast that tastes decadent. We will definitely be enjoying cold oats a lot more often. If I try any other cold oatmeal recipes that turn out great, I will post those as well!