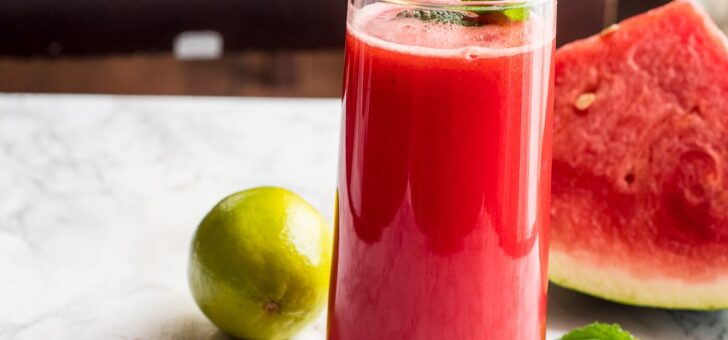 I'm always looking for ways to make healthy choices fun for the kids.  Sometimes that means shaping foods into funny shapes, getting creative with dips and sauces, and lots of experimentation with new flavor combinations.  Today was one of those flavor experimentation days.
Since the hint of green smoothie was a success with my 3 year old, I decided to experiment with the watermelon that seems to be taking over our house.  Watermelon has been on sale for ridiculously cheap prices, so I just keep buying it.  We have A LOT of watermelon.  Luckily, both kids love it (and so do I), so I thought it would make a great base for a smoothie.
Since watermelon is so sweet and juicy, it doesn't really need a whole lot of extras to make a good smoothie.  I decided to try it with celery (just like the hint of green smoothie) and a touch of mint.
Here's how I made the smoothie:
Watermelon Mint Smoothie (serves 1-2)
Ingredients
2 slices of watermelon quarters, cut into chunks (about 1 1/2 cups)
2 stalks of celery, cut into chunks
1 spring of fresh mint
splash of juice (I used grape.  You just need enough for the smoothie to blend well.)
small handful of ice
I threw all of the ingredients into a blender and blended until smooth.  Serve in a tall glass (or a kids cup with a lid) with a straw.  So easy!
You'll want to make sure there aren't any chunks of celery or mint after blending.  It is much more palatable to kids if everything is liquefied.  My 3 year old really liked this smoothie.  The celery has a mild enough flavor that I don't even think she noticed it was there.
The watermelon and the celery are full of water, so you don't need to add a lot of liquid for a smoothie that's easy to sip through a straw.  This smoothie is also packed with fiber to keep you full.  The mint and the ice make the whole thing cool and refreshing.
This drink is the perfect way to celebrate the last few days of summer!