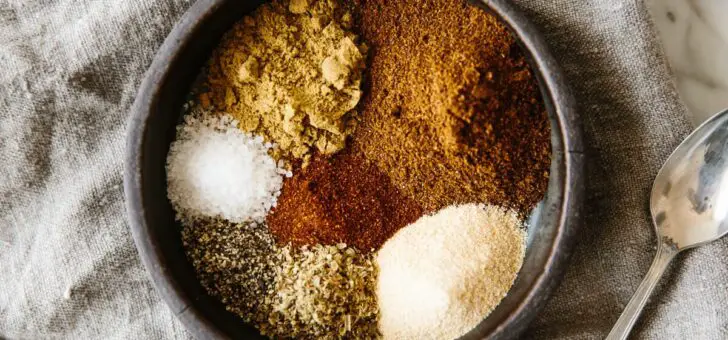 Until recently, my "homemade" taco recipe included a package of store bought taco seasoning mix.  But one night I found myself at home with all of the fixings for tacos…except the seasoning mix packet.  I had a fully stocked spice cabinet so a quick Internet search helped me whip up a taco seasoning mix with ingredients I already had at home, and the tacos were great!  Turns out the spice cabinet mix is WAY better for you than the store bought packet, and it's cheap!
Here are the ingredients found in the store bought taco seasoning packet I used to buy:
Chili pepper, salt, maltodextrin, spice, onion powder, corn starch, yellow corn flour. contains less than 2% of: partially hydrogenated soybean oil, silicon dioxide (anticaking agent), sunflower and/or cottonseed oil, natural flavor, ethoxyquin (preservative).
Since I'm not sure what most of that is, I definitely would rather take less than 5 minutes to mix a few spices for a truly homemade taco dinner.
Here's how I make my taco seasoning:
Make Your Own Taco Seasoning (makes the equivalent of 1 packet)
Ingredients
2 teaspoons chili powder
1/8 teaspoon red pepper (you can use more or less depending on how spicy you want your tacos)
1 1/2 teaspoons paprika
1 teaspoon dried minced onion (or onion powder)
1 teaspoon salt
1/2 teaspoon garlic powder
Mix ingredients and store in an airtight container until ready to use.
To make taco filling:
Brown 1 pound ground beef (or other ground meat).  Drain the fat off of the meat and return to pan.  Add 3/4 cup of water and taco seasoning to the meat.  Simmer for 3-5 minutes until the taco filling has reached its desired consistency.
You can also use this homemade mix in place of a store bought taco seasoning in any recipe.  It's great mixed with beans in 7-layer dip!
The final product is so tasty, you will never waste your time and money buying prepackaged taco mix again!