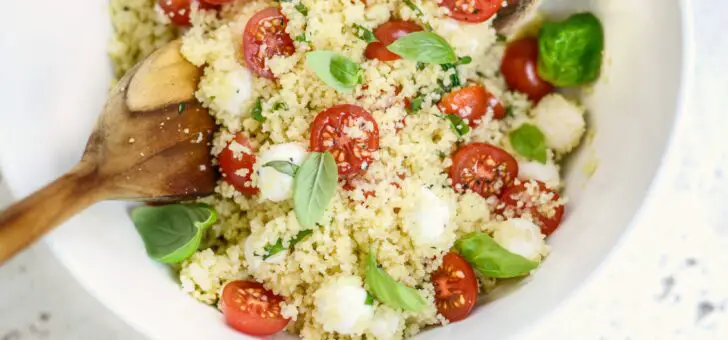 If you've been wanting to make the meal I have been raving about all week, this is the final recipe you will need. On Monday, I made Sweet Honey Mustard Chicken served with Roasted Summer Veggies and Tomato Basil Couscous, and this entire meal cooked in under 30 minutes. I'm so happy to share this easy couscous recipe with you.
Couscous is a perfect weeknight side dish, because it takes almost no time to make. I bought whole wheat couscous from the bulk bins at the grocery store, but you can also buy boxed couscous. For this recipe, you will want to make sure to buy the unflavored variety.
Ingredients
1 cup of dry couscous (fine couscous, not Israeli)
1 1/2 cups of chicken broth
Olive oil
10-12 fresh basil leaves, chopped
1/4 – 1/2 of a tomato, diced (you could also use canned diced tomatoes that have been drained)
I boiled the chicken broth on the stove in a small pot/saucepan with a lid. Once the chicken broth was boiling, I removed the pot from the heat. Then, I added a splash (about a teaspoon) of olive oil to the broth along with the dry couscous, basil and tomato. I stirred everything, covered the pot, and let it sit for 5 minutes. After 5 minutes, I fluffed the couscous with a fork and made sure the tomato and basil were evenly distributed. Then, it was ready to serve.
If you want to make this without using the stove, you can easily boil the broth in the microwave. Just combine all of the ingredients with the freshly boiled broth in a heat-resistant container with a lid and follow the directions above. It's hard to believe that something so tasty can be so quick and easy!
My husband and I love couscous. Since we usually eat brown rice, this was a welcome change of pace for a side dish. My kids found it interesting, but I'm afraid more ended up on the floor than in their mouths. The flavor is very kid-friendly, but the consistency might be a little tough for them to manage if they are still using their fingers to eat. The texture is fun for little fingers, though!
chicken with veggies and couscous
The final product – Sweet Honey Mustard Chicken served with Roasted Summer Veggies and Tomato Basil Couscous
I still can't stop thinking about this meal. All of the flavors were excellent. It was a perfect way to enjoy fresh summer veggies and herbs while they are still available. I hope you enjoy this recipe as much as we did!