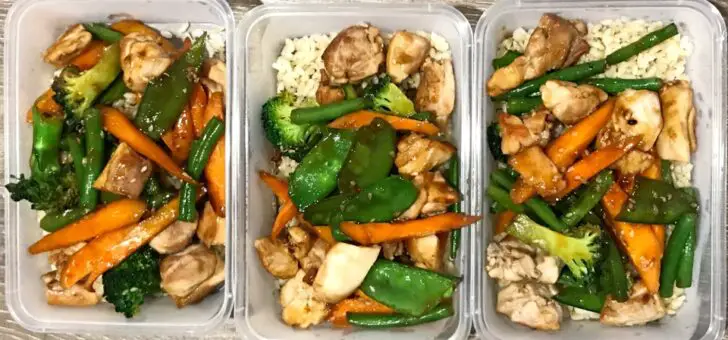 I've always thought that nothing can compare to real Chinese take out. I've tried to make Chinese food, especially stir fry, lots of times…but I always end up calling our local Chinese restaurant when I'm in the mood for the "real" stuff.
But now that I am really paying attention to the ingredients in what we are eating, I am skeptical of most foods that come prepared…and that includes food from restaurants. Don't get me wrong…I love going to restaurants as a treat. But I think of it as that…a treat. Now it is rare that we eat out more than once a week, and some weeks we don't even eat out at all.
Since we aren't eating out as much, I've been trying to recreate my restaurant favorites at home. That's how I discovered this honey chicken stir fry. The reviews of this recipe were excellent, and I have to say that I was sooooo impressed by the flavor of the sauce. I did make some subtle changes to the recipe, but the sauce is really what makes this recipe so yummy. This tastes just as good, or maybe better, as my favorite Chinese chicken take out. And it's so quick and easy…there's no reason not to make it!
Here's how I make the stir fry:
Honey Sesame Chicken Stir Fry (serves 2-4)
Ingredients
1/2 lb of chicken breasts, cut into bite-sized strips
2 cloves of garlic, minced
2 teaspoons of olive oil, divided
1/4 cup + 2 tablespoons of honey
1/4 cup of soy sauce (I used San-J Tamari Gluten Free Soy Sauce, a pure soy sauce made with no wheat)
1/4 teaspoon of salt
1/4 teaspoon of pepper
1 red bell pepper, sliced into strips
1 green bell pepper, sliced into strips
1/2 yellow onion, peeled and sliced into strips
2 teaspoons of corn starch
1 teaspoon of cold water
Hot cooked brown rice
sesame seeds for garnish
1. Heat 1 teaspoon of olive oil in a large skillet. Add chicken and garlic to the skillet and stir fry for 1 minute.
2. Add honey, soy sauce, salt, and pepper to the skillet, and cook and stir the chicken until no longer pink. Transfer chicken and sauce to a dish/bowl and keep warm.
3. Heat the remaining teaspoon of olive oil in the same skillet. Add the peppers and onions to the pan, and stir fry until tender-crisp.
4. Return chicken and sauce to the skillet with the veggies. Stir everything together.
5. Combine corn starch and cold water until there are no lumps. Add to the chicken mixture, bring to a boil, and cook/stir the mixture until the sauce is thickened and hot (about 1 minute). Sprinkle the stir fry with sesame seeds. Serve over hot cooked brown rice.
My husband, 4 year old, and I love this dish! My 1 year old is a little harder to impress these days, but it seems to be just a phase. The mix of sweet and salty is just right. Serve it with mandarin oranges on the side for the kids (and even for the adults)!
This recipe is just right to feed my family of 4 (2 adults and 2 small children) with no leftovers, but you can easily double the recipe if you are feeding people with big appetites.
Here's a tip for a quick dinner: Slice the chicken, peppers and onions the night before, and use precooked or quick/instant rice. This stir fry can easily be whipped up in about 15 minutes…perfect for a weeknight!