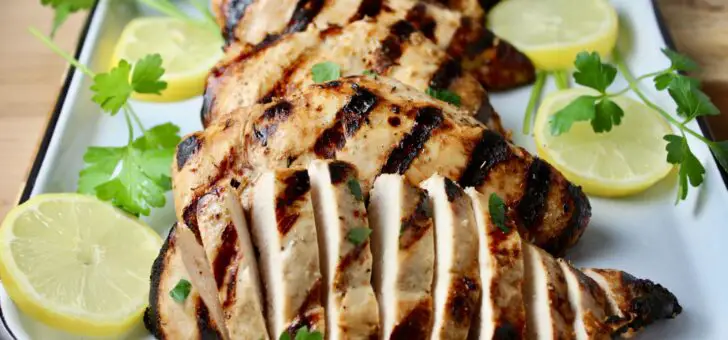 What would a long summer weekend be without a barbecue? There is definitely something special about cooking food outdoors…the smells, the flavors, and the experience. Almost anything can be cooked on a grill. Meat is the obvious choice, but we have been known to grill veggies, fruit, and even entire sandwiches. Part of the fun of the grill is getting creative with cooking.
Over the Labor Day weekend, we did our fair share of grilling. Before long, the weather will turn cold in Colorado so we wanted to make the most of the grill while we can.
I'm always looking for new recipes and new flavors when I cook, so I decided to experiment with a new marinade for grilled chicken for our Labor Day cookout. I did a quick search for easy grilled chicken marinades, and I came across this recipe for 7-Up marinade. I happened to have Sierra Mist on hand (I prefer Sierra Mist because it is made with real sugar instead of high fructose corn syrup and it has 100% natural flavors), so I decided to use that instead.
Now, I'm not saying this recipe is "healthy" (it is made with soda after all). This marinade was a bit of a splurge for us for a special meal. I subscribe to the philosophy of "everything in moderation," so we do treat ourselves on occasion. However, even when I make splurge meals (like chicken marinated in soda), I try to make better choices with the ingredients that are available. I prefer using real sugar to high fructose corn syrup, so that is why I chose a soda made with real sugar. You could even buy lemon lime soda at a health food store for this recipe.
I made a little less marinade than the original recipe calls for, and I am glad I did because it still filled up an entire 9 x 13 casserole dish with the chicken breasts. This recipe makes A LOT of marinade.
Here's how I made the marinade:
Sierra Mist Chicken Marinade (serves 4-8)
Ingredients
1 3/4 cups of Sierra Mist (or other lemon lime soda)
3/4 cup of soy sauce
1 tablespoon of horseradish
2 cloves of garlic, finely minced
1 cup of oil (I used canola)
I whisked all of the ingredients together in a medium bowl. I had already placed 4 boneless skinless chicken breasts, each cut in half, in a 9 x 13 casserole dish. I poked holes in the chicken with a fork, poured the marinade over the chicken, and placed the chicken dish (covered) in the fridge overnight. The next day it was ready to grill!
Between the Sierra Mist and soy sauce, the chicken ended up having a sweet Asian flavor. Everyone loved it! My 3 year old even ate some, cut into "nuggets," with ranch dressing for dipping. We served it fresh off the grill with BBQ beans and watermelon. The leftovers were perfect the next day sliced over a greens salad.
What are your favorite easy marinades for when you grill?