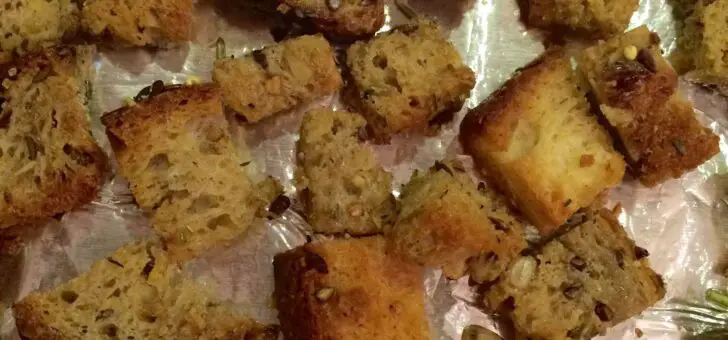 My 1 year old loves bread and everything bread-related. That includes croutons. I love to give him what he wants, but one look at the back of a box of prepackaged croutons makes me want to banish croutons from our house forever. Many brands are made with enriched flour (white bread) and suspicious additives and preservatives with names I can't even pronounce. Luckily, I don't have to banish croutons, because I can quickly and simply make them at home…with ingredients I already have!
Remember when I mentioned that I freeze those whole wheat bread heels (the crusty ends of sandwich bread that usually get thrown out)? Those crusty pieces of bread make perfect homemade croutons. Just throw those ends in a freezer bag in your freezer, and they will be waiting for you when you need them. You won't have to spend a cent on store-bought croutons again!
Here's how I make croutons:
DIY Croutons (serves 4-8)
Ingredients
4 whole wheat bread ends (or pieces of bread)
olive oil
sea salt (to taste)
fresh cracked pepper (to taste)
If the bread was frozen, allow it to thaw at room temperature or in the microwave. Preheat the oven to 450 degrees. Cut the bread into cubes and place them in a bowl. Drizzle the bread with olive oil (enough to lightly coat each cube of bread) and sprinkle with salt and pepper. Toss the bread cubes with your hands until the olive oil, salt, and pepper are well distributed. Spread the bread cubes in a single layer on a foil-lined baking sheet. I bake them for about 5-7 minutes (until crispy and toasted), tossing them once during baking so they brown evenly. I recommend keeping a close eye on them and start checking after only 2 minutes in the oven. Depending on their size, they can cook faster or slower…and you definitely don't want burned croutons!
I usually keep my croutons simple, only seasoning them with salt and pepper. However, you can easily customize them by adding other spices. To give them an Italian flavor, add some Italian Seasoning. For spicy croutons, sprinkle them with cayenne pepper. Experimenting with the flavors is part of the fun!
We toss croutons in salad, sprinkle them on soups, and sometimes even snack on them just by themselves! If we have leftover croutons, I keep them in a Ziploc bag at room temperature and try to use them within 2 days or so.