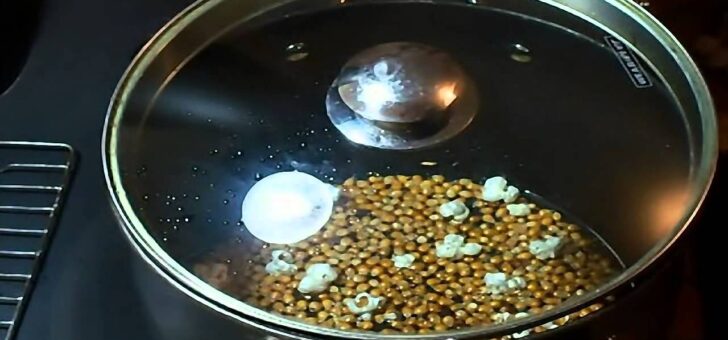 Between the kids feeling crummy and exhausted and me having a self-diagnosed sinus infection (because who has time to go to the doctor when you have two kids?!), I was not able to make it to the grocery store for Grocery Grab Wednesday. Hopefully I will have a grocery update before the end of the week, because we definitely need groceries after being out of town for a week! Luckily, I have a well-stocked freezer to tide us over…
In lieu of Grocery Grab Wednesday, I have an easy recipe for old-fashioned popcorn! This popcorn is perfect for movie nights, parties, afternoon snacks, and even lunchboxes. The recipe is so simple and so yummy, you'll never want to pop popcorn in the microwave again.
If you want the popcorn without the guilt, just sprinkle it with salt and enjoy the whole grain goodness. If you want a little splurge, use real butter for a movie-theater inspired treat!
Here's how I make popcorn, the old-fashioned way:
Old-Fashioned Popcorn on the Stove (serves 6)
Ingredients:
1/2 cup of popcorn kernels
3 tablespoons of coconut oil
1-2 tablespoons of melted butter (optional)
salt, to taste
In a heavy kettle with a lid, allow the coconut oil to melt over MEDIUM-HIGH heat. Add the popcorn to the kettle and cover with the lid. Slide the kettle back and forth over the heat as the popcorn pops (so it doesn't burn). When the popping slows to 2-3 seconds between pops, remove the kettle from the heat. Drizzle with butter (if desired) and sprinkle with salt.
When served hot with butter, this popcorn is just like movie theater popcorn…except you can feel better about splurging on real butter instead of "butter-flavored topping" (whatever that is). However, I think the popcorn is just as tasty without the butter. Coconut oil is a healthy fat that also gives the popcorn great flavor. Just a sprinkle of salt is all you need!