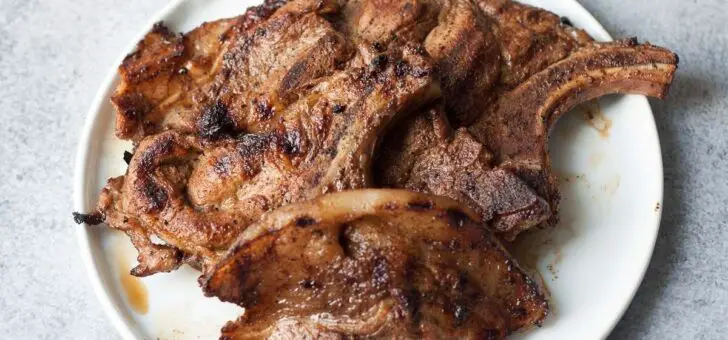 I'm always looking for quick and flavorful meals to cook on weeknights, and this recipe doesn't disappoint. Usually, pork chops aren't my favorite. I've tried baking pork chops, slow cooking them in the Crock Pot, you name it…they always come out dry and bland. But this recipe takes pork chops to a whole new level with the brine and the seasonings.
This recipe is one to put into your regular weeknight rotation for sure. Even my 5 year old declared she "loves pork chops" after she finished an entire pork chop of her own for dinner tonight!
I didn't come up with this recipe out of thin air, so I'll be sure to give credit where credit is due. This recipe is a modified version of Mama Dip's skillet pork chop recipe. She doesn't brine her pork chops (that I know of), but the lady sure knows how to cook up a mean skillet pork chop.
Fun fact: I went to college at the University of North Carolina at Chapel Hill and frequently ate at Mama Dip's restaurant when I was in need of some good ole' "home-cookin'" comfort food. I even waved hello to Mama Dip herself (the legend) as she greeted customers at the entrance to her restaurant.
Here's how I make the pork chops:
Weeknight Wow Skillet Pork Chops (makes 4 chops)
Ingredients
For the brine:
2 cups of water (divided)
2 tablespoon of sea salt
For the pork chops:
4 thin cut pork chops (I use boneless thin cut chops)
1 teaspoon of sea salt (or less)
1 teaspoon of dried thyme
1/2 teaspoon of fresh cracked pepper, or to taste
1-2 tablespoons of olive oil
1. Brine: Boil 1 cup of water, and stir in 2 tablespoons of salt until the salt is dissolved. Add 1 cup of cold water to the saltwater mixture. Place pork chops in a shallow dish, and pour brine over the pork chops until the chops are covered. If you need more brine use a 1 cup of water to 1 tablespoon of salt ratio. Allow the pork chops to sit in the brine in the refrigerator, covered, 30 minutes to 4 hours (or even up to 24 hours).
2. When you're ready to cook the chops, drain the brine and rub both sides of each pork chop with salt, thyme and pepper . You can use less than 1 tsp of salt if you want less salty pork chops, since the brine already adds a bit of a salty flavor. Allow pork chops to come to room temperature for 15-30 minutes before cooking.
3. Heat oil in a large skillet over medium heat. Place chops in the pan so they don't touch each other, and brown the chops on both sides (about 4-5 minutes per side). I usually turn down the heat a bit so the chops don't brown too quickly.
4. Once the chops are nicely browned on both sides, turn off the heat and cover the pan with a tight-fitting lid. Allow the chops to sit in the covered, hot pan for about 8 minutes (until they are cooked through).
skillet pork chops
In the skillet
And that's all there is to it! In just about 20 minutes of cooking time, you have a flavorful main course that's tasty enough to serve to company but quick and easy enough for a weeknight.
Enjoy!