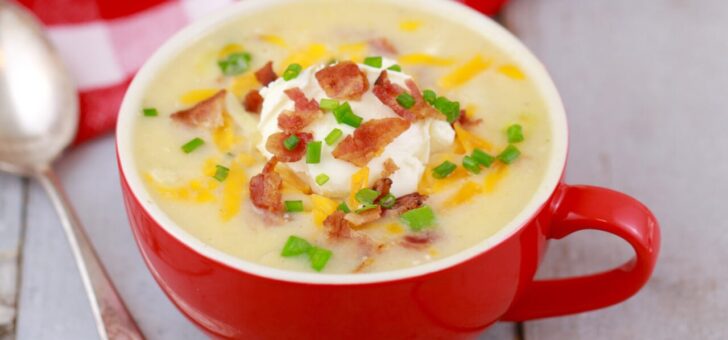 If you are wondering why you haven't seen a Grocery Grab post in a while, it's because I haven't been grocery shopping in FOREVER! The last time I grocery shopped was two days before Christmas, and I bought mostly food for Christmas Eve and Christmas Day. (I didn't post those groceries for a Grocery Grab because I considered myself on holiday break from blogging!) For the past 2 weeks, we have been enjoying lots of holiday leftovers as well as depleting our stockpile of frozen foods and pantry staples. And we have also been out to eat or ordering in a few times. Hey, it was the holidays!
One item I desperately needed to use up was a 5 lb bag of russet potatoes. I did make baked potatoes once, but the majority of the potatoes were still sitting in our pantry waiting to be made into something delicious. I love using Google to find recipes, so I Googled "basic potato soup recipe" and found this simple one. I tweaked the recipe a little to suit my taste (and to use what we already had so I wouldn't have to go to the store). It turns out that this is a wonderful basic "recipe" (I don't know if I would really call it a recipe since there really aren't many exact measurements) for creating your own potato soup…however you like it!
Here's how I made the potato soup:
Create-Your-Own Potato Soup (serves 4-6)
Ingredients
1/2 of a medium onion, chopped
3 cloves of garlic, minced
olive oil or cooking spray
6 medium russet potatoes, peeled and cubed
broth or water (I used homemade chicken broth defrosted from the freezer)
1 cup (or more or less to taste) of milk, cream or half-and-half (I used a combo of milk and cream)
salt and pepper, to taste
In a heavy stock pot, saute onions and garlic in a drizzle of olive oil (or cooking spray) over medium heat until tender. Add the potatoes to the pot, and pour enough broth or water into the pot to almost cover the vegetables. Bring to a boil, lower heat to a simmer, and simmer covered for 20-25 minutes until the potatoes are very tender when pierced with a fork. Using a potato masher, mash the potatoes to the consistency you desire. (If you like chunky potato soup, leave some chunks. I like creamy potato soup, so I used my immersion blender to make the potatoes smooth and creamy.) Stir in milk or cream a little at a time until the soup is as thick or thin as you like. I continued pureeing as I added milk and cream. Salt and pepper to taste.
I found that the soup needed lots of salt to suit my taste (about 1 1/2 teaspoons of salt), but I also do not salt my homemade chicken broth very much. If you use store-bought broth, you may need less salt. I always err on the side of less salt and add more as necessary.
To customize the soup, you can add ingredients when preparing the soup…or you can add toppings. When sauteing the onions and garlic, you could also use celery or leeks. Also, in addition to potatoes, you could choose to add other root vegetables like carrots or turnips. The soup can be topped with sour cream, chives, crumbled bacon, homemade croutons, shredded cheese, a drizzle of balsamic vinegar, or anything else that you like. It's fun to get creative with soup recipes!
What's fun about this soup recipe is you can make it for a crowd…or just for one! Check the original recipe to see the suggested proportions of ingredients per person.
While my kids didn't devour this soup (they aren't huge potato-eaters), I do think this is a very kid-friendly recipe if your kids like potatoes. The creamy soup is very palatable and mild, and the toppings make it fun! Set up a topping bar, and let your kids make it just the way they like!