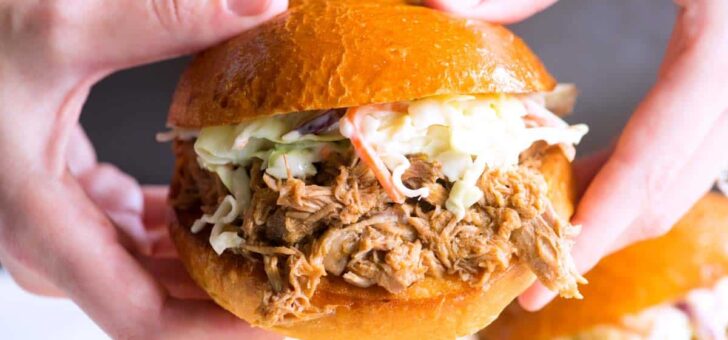 I'm a native Southerner, so I love barbecue. I grew up on Lexington style barbecue in North Carolina, which is made with a vinegar-based red sauce. Pulled pork is my barbecue of choice. Colorado has few good options for true barbecue, so I usually make my pulled pork at home…in the slow cooker!
This is one of my all-time favorite recipes. I've been making it for years, and it has never once failed me. I originally found it in my Betty Crocker's Easy Slow Cooker Dinners cookbook, and I have adapted it over time to suit my tastes. I think pork tastes best when it is cooked low and slow until it is so tender it just falls apart when you touch it. That's exactly how this recipe works.
Here's how I make the pulled pork:
Perfect Pulled Pork in the Slow Cooker (serves 4-6)
Ingredients
2-3 lbs of well-trimmed pork (pork shoulder is traditional for pulled pork, but I use country style pork ribs because they are boneless
and go on sale frequently)
salt
fresh cracked black pepper
1 cup of cola or water (I use cola made with real sugar instead of high fructose corn syrup)*
1 cup of barbecue sauce of choice (more or less, to taste)
1. Spray the slow cooker with cooking spray.
2. Place pork in the slow cooker, and salt and pepper the pork on all sides. Add cola or water to the slow cooker.
3. Cover the slow cooker, and allow the pork to cook on LOW heat for 8-9 hours.
4. When the meat is tender, carefully remove the pork to a plate or a bowl, drain all liquid from the slow cooker, shred the pork, and place the meat back in the slow cooker.
5. Pour barbecue sauce over the pork, and stir to combine. Cover and continue cooking on low until the barbecue sauce is hot (about 15 minutes).
Serve hot on whole wheat buns…or however you like! The pork is delicious over tortilla chips for barbecue nachos (add any nacho toppings you like)! You can also try barbecue tacos, barbecue sliders, or just put the barbecue on the plate to enjoy it in its simplicity.
I always make sure to check the slow cooker towards the end of the cooking time to make sure there is enough liquid left (so the meat doesn't burn). If you know your slow cooker cooks faster or hotter than most, you may want to add additional liquid at the beginning.
I like making my own barbecue sauce for my pulled pork. Here's a recipe I like that uses molasses, and here's a quick and easy recipe that doesn't require any chopping.
There are various ways to shred/chop the pork. When the pork is very tender, you can use two forks to pull the meat in opposite directions to shred it. Sometimes if the pork falls apart easily when touched, I can even just poke at the pork with tongs in the slow cooker to get it to pull apart nicely. If you like chopped pork, you can chop it on a cutting board with a large, sharp knife. No matter how you slice it, it will taste amazing!
*Whole Foods makes their store brand of cola with pure cane sugar.