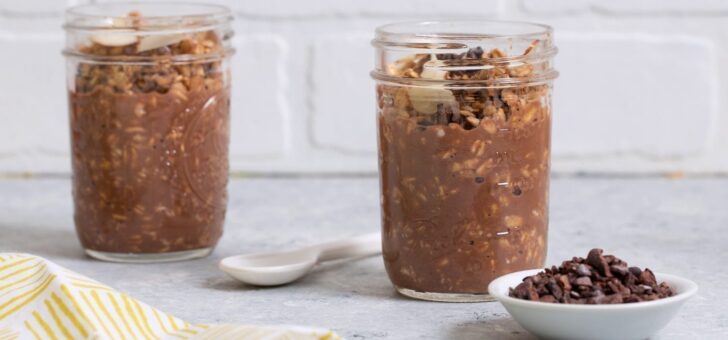 Since my Simple Vanilla Overnight Oats have been such a hit in my house and on Pinterest (follow me on Pinterest), I decided to branch out to bring two of my favorite things together…overnight oats and spicy chocolate!
Ever since I tried a "fire flower" chocolate paired with a spicy wine at a wine tasting years ago, I have not been able to get spicy chocolate out of my mind. Occasionally, I will find a coffee shop that has a "spicy mocha," and I must indulge! In case you have never had a spicy chocolate or a Mexican hot chocolate, it is chocolate with a kick of cinnamon and other spicy flavors (like cayenne pepper). The combination of flavors is indescribably good.
Just like the vanilla overnight oats, these Mexican Hot Chocolate Overnight Oats can be made quickly the night before you plan to eat them. If you like spice and you like chocolate, you've definitely got to give these easy overnight oats a try!
Here's how I make the oats:
Mexican Hot Chocolate Overnight Oats (serves 1-2)
Ingredients
2/3 cup of milk
1/2 cup of old fashioned rolled oats
1/2 cup of plain yogurt
2 tablespoons unsweetened cocoa powder
1 tablespoon of pure maple syrup (or less, if you prefer it less sweet)
1/2 teaspoon pure vanilla extract
1/2 teaspoon of cinnamon (or more or less, to taste)
sprinkle of salt
sprinkle of cayenne pepper (optional)
Combine all ingredients in an airtight container (I use a mason jar or a glass bowl with a lid), mix well, and refrigerate (covered) overnight. In the morning, scoop a serving into a small bowl and enjoy!
I like my spicy oats with a healthy sprinkle of cayenne pepper, but I recommend starting with very little cayenne…you can always add more if it's not spicy enough.
In the picture (above), I actually made myself a Mexican Hot Chocolate Overnight Oats banana split! I simply scooped the oats over bite-sized banana, and topped the oats with dark chocolate chips. It's perfect for a healthier dessert or a special breakfast treat!