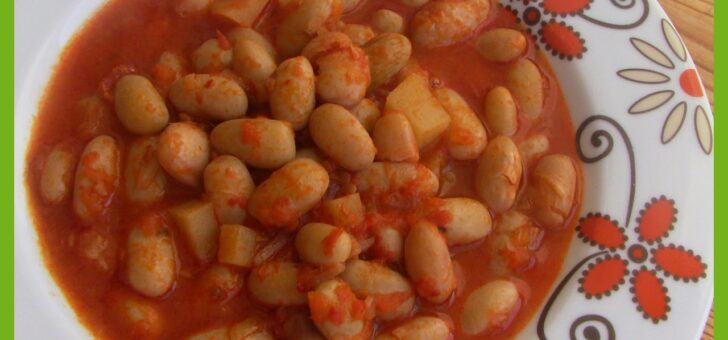 For Meatless Monday this week, I decided I wanted to try a completely new (to me) recipe. I dug into my trusty Betty Crocker's Easy Slow Cooker Dinners cookbook for inspiration. I love that this cookbook has an entire chapter of "Fabulous Meatless Meals," so there were plenty of options for Meatless Monday.
I found a recipe that looked and sounded great using white beans, which I happened to already have in my pantry from when I made baked beans. If you haven't already noticed, I love making recipes with ingredients I already have in the house. I hate to waste food, so this recipe was perfect for me. I only changed a few small things about the recipe.
Here's how I made the beans:
Mediterranean Navy Beans (serves 4-6)
Ingredients
2 cups dried navy beans, rinsed and sorted (I didn't pre-soak them)
3 cloves of garlic, finely chopped
6 cups of water
1 1/2 teaspoons fresh chopped or freeze dried basil leaves (or dried)
1 teaspoon salt
fresh cracked pepper to taste (about 1/4 teaspoon)
3/4 cup oil packed sun-dried tomatoes, sliced into bite-sized pieces (save the oil they are packed in)
1/2 of a 6 oz can of ripe olives, drained and sliced
I combined all ingredients except sun-dried tomatoes and olives in the slow cooker and cooked (covered) on HIGH heat for 5 hours (start checking the beans after 4 hours of cooking to make sure they still have enough water. The beans are done when they are tender, but they should still be formed (we don't want them to turn into bean soup!). I stirred in the sun-dried tomatoes and ripe olives just before serving, and I also added a drizzle of oil from the sun-dried tomatoes for extra flavor.
Beans with salad and bread
Mediterranean navy beans
served with salad and whole wheat bread
kids plate of beans
Kids serving of navy beans
served with fruit, green beans, and whole wheat bread
This recipe was so easy, and it turned out so tasty! Even my husband, who is skeptical of my main-course bean dishes, enjoyed it and said he would definitely eat it again. He didn't exactly go meatless (he added leftover sausage to his plate with the beans), but he did eat every bite of beans on his plate. My kids weren't as into the beans…I was surprised, because my 1 year old is usually a bean-lover. I think he may be going through a phase (my now 3 year old did the same thing at the same age), so I'm just going to continue to put good options in front of him and hope that his adventurous eating habits come back.
This dish had great flavor, but it was also very mild. The beans were buttery and tender. I think this definitely makes a great family-friendly recipe. I'm not giving up on this recipe with my kids just yet. I plan on serving this many more times (because I loved it) to see if they develop a taste for it.
This recipe makes a great meatless main course, but it would also be good as a side dish. Beans always go perfectly with sausages or hot dogs (for the kids). You could even shred chicken and serve it on top of the beans. If you want to bring the beans to a bbq or a potluck, just double the recipe and serve a crowd!