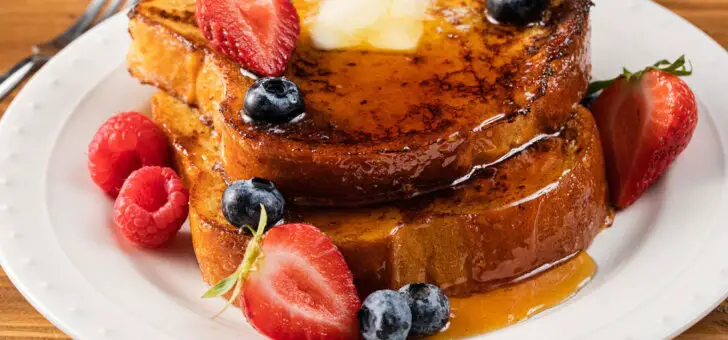 My family loves to eat breakfast…sometimes we even eat it for lunch or dinner! I can't get my kids to eat eggs (they just don't like the texture), but they do love breakfast foods that have eggs hidden in them. One of our favorite egg-hiding breakfast foods is french toast.
French toast is definitely a sweet treat. The vanilla, the cinnamon, the syrup…what decadence! It tastes like it must be sinful. Can something that tastes so good actually be good for you? I say yes!
Instead of using thick white french bread, we make it with whole grain sandwich bread. Between the whole grain bread and the eggs, the french toast provides both fiber and protein. Add some fruits and veggies on the side, and you get a pretty balanced meal that will keep tummies full and happy.
With all that good stuff, you don't even have to feel guilty about using a little pat of butter and a drizzle of pure maple syrup!
Here's how I make the french toast:
Simple Whole Grain French Toast (makes 4 french toast slices)
Ingredients
2 eggs
2 tablespoons of unsweetened vanilla almond milk (or 2 tablespoons of milk with a splash of pure vanilla extract)
1/2 teaspoon of cinnamon plus more for sprinkling
1/8 teaspoon of nutmeg
4 slices of whole grain bread (I use 100% whole wheat or another whole grain bread that is high in fiber)
butter
pure maple syrup
In a small bowl, mix the eggs, almond milk (or milk with vanilla), 1/2 teaspoon of cinnamon, and nutmeg. Heat a frying pan or griddle to medium heat (or just a bit lower depending on how hot your stove or griddle cooks). Allow a pat of butter to melt on the griddle and coat the cooking surface. Dip the slices of bread into the egg mixture and place on the griddle. Allow the bread to cook about 3 minutes until the bread is nicely toasted (but not over-browned) and the egg is cooked. If I have any leftover egg mixture, I drizzle it over the uncooked sides of the bread slices before I flip them. Flip the slices to cook the other side. Once both sides of the toast are evenly browned, serve warm on a plate with a pat of butter, a sprinkle of cinnamon, and a drizzle of pure maple syrup.
This recipe is a crowd-pleaser. I like to double the recipe and freeze the extras so we have them on hand for busy weekday mornings.
To freeze the leftover french toast slices, wrap each individual slice in aluminum foil. Write the date on each slice and keep them in a large Ziploc freezer bag labeled "french toast." Keep them in the freezer and pull them out by the slice when you need them.
To reheat frozen french toast, just remove the foil, place on a microwave-safe plate, and microwave for about 10 seconds (until the bread slice is mostly thawed). Then, toast in the toaster on the lowest setting for 1-2 toasting cycles until the toast is warmed through and slightly browned. Serve as you would fresh french toast.
Previously frozen french toast slices can also be used to make special sandwiches. Spread 2 slices of thawed french toast with cream cheese and jelly for a special lunchbox treat!