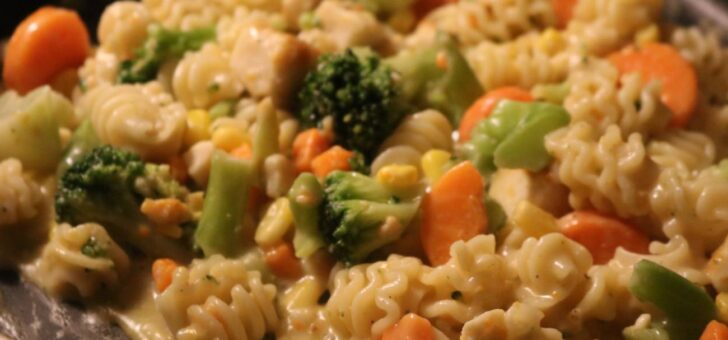 I love the idea of sneaking veggies into other foods so my kids will eat them. Neither of my kids are veggie lovers (yet), so I frequently sneak veggies into their smoothies (like this one). They also love baked goods, so I don't have to feel too guilty when I give them zucchini bread as a treat. Luckily, there are so many other ways to sneak more veggies into their diet.
I own a cookbook full of recipes that hide veggies in a variety of foods from eggs to cakes! However, most of the recipes require 2-3 different veggie purees, and not all of these purees are quick and easy to make. If you can devote a Sunday afternoon to making and freezing purees, than you are set…but if you're like me, it's easier said than done.
Pasta sauce is perfect for incorporating extra veggies because you can use almost any veggie, and you can choose to saute the veggies (for a chunky sauce) or puree them (for a smooth sauce). I like to freeze leftover roasted veggies for pureeing because they are very soft when thawed. Roasted veggies can get a little soggy as leftovers, so just wrap your leftovers in foil and freeze them until you need them for pasta sauce. I defrost mine in the microwave and quickly puree them in the food processor or blender (no need to add any liquid…the soft roasted veggies puree nicely by themselves). Fresh or frozen (thawed) uncooked veggies are great for sauteing. Pair the veggies with an easy, homemade pasta sauce and 100% whole grain noodles (or your favorite noodles), and you'll have a well-balanced meal!
The pasta sauce recipe I use is adapted from a sauce recipe in my favorite Betty Crocker Cookbook.
Here's how I make the pasta sauce:
Sneaky Veggie Pasta Sauce (serves 4)
Ingredients
2 tablespoons of olive oil
1 large onion, chopped
1/2 cup (or more) chopped or pureed vegetable(s) of your choice (I like bell peppers, zucchini, squash, asparagus, mushrooms, carrots,
and spinach but feel free to experiment)
4 cloves of garlic, minced
1 28 oz (large) can of diced tomatoes
1 14.5 oz (regular) can of crushed tomatoes
2 tablespoons of chopped fresh basil (or 2 teaspoons of dried basil)
1 tablespoon of chopped fresh oregano (or 1 teaspoon of dried oregano)
1/2 teaspoon of sea salt
1/2 teaspoon of fennel seed
1/4 teaspoon of fresh ground pepper
Heat the oil in a large pot over medium heat. Saute the onion, garlic and veggies (if using chopped veggies) until just tender. Stir in remaining ingredients, including veggies (if pureed). Heat to boiling, then reduce to a simmer, covered, for at least 45 minutes. If I have time, I like to simmer the sauce for an hour or two.
Cook pasta according to package instructions. I use 1/2 of a package of spaghetti noodles for this pasta sauce recipe. Once pasta is cooked and drained, combine pasta and sauce in a pot and cook over medium-low heat for about 2 minutes to let the flavors marry.
The pasta sauce freezes well and can last in the freezer for up to a year if properly stored.
If you have pasta-loving kids, this is a great way to incorporate more veggies into their diet. I like chunky pasta sauce with sauteed veggies, but kids may prefer a smooth sauce with pureed veggies. I have found that my kids prefer soft noodles instead of al dente…so I always boil whole wheat noodles for an extra minute or two so they cook to a desirable texture for the kids.