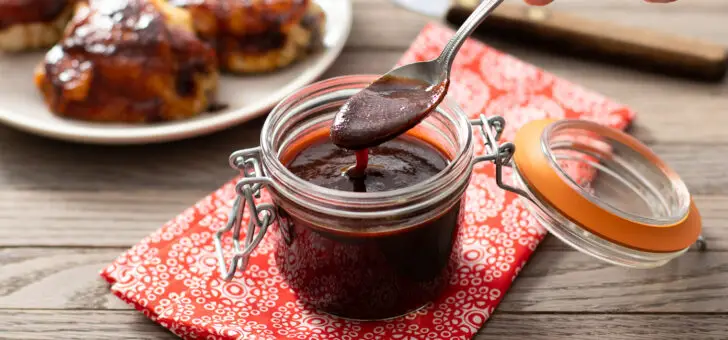 Who doesn't love BBQ?  Sink your teeth into the tender meat slathered in sweet and tangy sauce, and you'll surely be in hog heaven.  Pulled pork bbq is my personal favorite, but I wouldn't turn my nose up at beef brisket, pulled chicken, ribs, you name it!
One of my husband's favorite meals is ribs cooked in the slow cooker.  The meat gets so tender it literally falls off the bone.  But ribs covered in bbq sauce from a bottle, chock-full of high fructose corn syrup and other not-so-great ingredients, isn't exactly something I want to serve to my children regularly.
Tonight I made the ribs with a homemade bbq sauce that my husband loved, and the sauce took less than 10 minutes to whip up in one pan on the stove.  It does have sugar in it (but what bbq sauce doesn't have sweetener in it).  However, we are avoiding high fructose corn syrup, unnecessary thickeners, and "natural flavors" so that is a step in the right direction in my book.  I adapted the recipe from the Williams-Sonoma Food Made Fast Slow Cooker cookbook.
Here's how I made the sauce:
Homemade BBQ Sauce (makes the equivalent of 1 bottle)
Ingredients
olive oil
1/2 large sweet onion, chopped (or use 1 cup frozen diced onion to save even more time)
3/4 cup cider vinegar
3/4 cup organic ketchup (or ketchup made without high fructose corn syrup)
1/3 cup packed brown sugar
1/4 cup molasses
1 teaspoon yellow mustard
salt (preferably sea salt) and fresh cracked pepper to taste
Warm about a tablespoon of olive oil in a pan over medium heat.  Add the onions and saute, stirring occasionally, about 5 minutes until they begin to brown.  Stir in vinegar, ketchup, brown sugar, molasses, yellow mustard, and salt and pepper.  I allowed the sauce to simmer for a minute or two to thicken as I was stirring it. Pour directly over meat or pour into a glass jar for later use.  If you make the sauce ahead, I would probably use the sauce within a few days.
If you want an easy dinner, you can slow cook pork, chicken or beef in a little water or broth with salt and pepper.  I cooked our pork ribs in 1/2 cup of liquid on low for 7 hours.  Pour the cooking liquid off, and pour as much or as little of the warm sauce over the meat as you would like…you could even serve it on the side so everyone can help themselves.  The meat is great served by itself or pulled into shreds for pulled pork/beef/chicken on whole wheat buns.
Everyone in the family loved the bbq sauce.  My 3 year old ate all of the meat (with sauce) on her plate, which is a big deal since it is usually difficult to get her to eat meat at dinner.  And the 1 year old had 3 helpings!