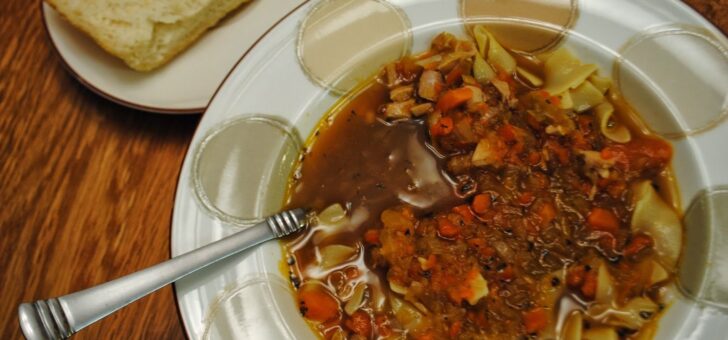 Wow, we really came down with something over the weekend. Yesterday morning I woke up feeling great, but by bedtime I had a sore throat, congestion, was achy, feverish (well, 99 degrees, but I felt a lot hotter than that), and exhausted. But if you are a parent, you know that life goes on, and it's a 24/7 job. No sick days around here!
The kids also have little coughs and runny noses, but they still have enough energy to run circles around me. My hubby is even under the weather too. Since everyone was feeling off, I figured it was a perfect time to make a dinner that should help heal what ails us…homemade chicken noodle soup!
I know that the word "homemade" makes some people thing "time-consuming," but it really doesn't have to be. This "homemade" recipe can be made in just about 30 minutes!
Here's how I make the soup:
Fix-You-Up Chicken Noodle Soup (serves 6)
Ingredients
6 cups of chicken stock (I used defrosted homemade stock)
1 tablespoon of butter
1 small yellow onion, chopped (I used 3/4 of a medium onion)
3 ribs of celery, chopped
3 carrots, chopped
2 cloves of garlic, minced
1 cup of cooked chicken, chopped
1/2 teaspoon of dried basil
1/2 teaspoon of dried oregano
pinch of thyme
salt and pepper, to taste
2 cups of cooked egg noodles (or cooked noodles of your choice)
1. In a stockpot, melt butter. Saute onion, celery, carrots and garlic in the butter over medium heat until tender.
2. Add the chicken stock, chopped chicken, basil, oregano, thyme, salt and pepper, and bring to a boil.
3. Reduce heat and simmer, covered, for about 20 minutes. (While the soup was simmering, I cooked the noodles according to the package directions.)
To serve, spoon the desired amount of noodles into a soup bowl and ladle the chicken soup over the noodles. I prefer serving the soup this way (instead of adding the noodles to the stockpot) so the noodles don't get soggy and the soup doesn't get starchy. I also think it freezes better without the noodles.
The soup tasted GREAT, and even my 4 year old slurped up every bit of her broth. I think the homemade chicken stock (made in the slow cooker) makes the flavor really rich. Let's hope it really does cure what ails us!