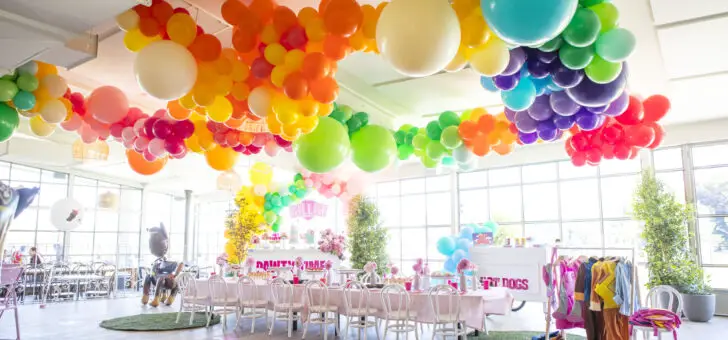 Over the weekend, we threw a birthday party for my daughter. She turns 4 this Thursday, but we decided to have the party early since her birthday is right before Thanksgiving. This was the first year that we threw her a real party, so I was excited to plan it!
I decided on an afternoon party to make it easy (no meal, just snacks). Cake or cupcakes are a must for birthdays, so I chose cupcakes. My daughter loves arts & crafts, so that gave us an activity and a theme…cupcakes and crafts!
Here's what we did for the party:
1. Arts & Crafts Stations
I set up 3 tables for arts and crafts – one table for craft projects, one table for Play Doh, and one table for coloring. Our large dining table, covered in brown craft paper, served as the main craft table. At this table, kids had supplies to decorate their own goody bags (white bags with handles, foam self-adhesive cupcake-themed shapes, markers, and stamps). I had also individually packaged make-your-own-ornament sets and decorate-your-own-cupcake sticker sheets, so the kids had the choice to make their crafts at the party or take them home in their goody bags. A smaller kids table offered Play Doh and various sweets and treats-themed Play Doh cookie cutters and accessories. A third kids table had crayons, various coloring pages, and construction paper.
2. Snacks and Cupcakes
Since this was an afternoon party, I didn't want to overdo the food. I made 2 batches of old-fashioned popcorn (organic popping corn, organic coconut oil, and sea salt) and put out mini boxes for raisins. We also had organic apple juice and lemonade for the kids to drink out of fun kids cups with lids and straws. Of course, I also made cupcakes as the big treat for the party. I used this recipe for homemade funfetti cupcakes, and they turned out amazing! I tripled the cupcake recipe (which made almost 4 dozen cupcakes) and doubled the frosting recipe (which generously frosted over 30 cupcakes). The cupcakes were so moist and so colorful, and the buttercream frosting turned out light and fluffy…this might just be my new favorite cupcake recipe!
3. Presents
What 4 year old's birthday is complete without opening presents? Our little girl loved having her friends help her open the beautifully wrapped gifts, and she was so excited to see what her friends picked out for her. She also enjoyed being able to personally thank her buddies for the gifts.
4. Goody Bags
The kids decorated their own goody bags as a craft, and they got to bring home the ornaments and cupcake sticker sets. I also had bags of extra goodies to drop into their decorated bags as they left. These bags included another cupcake sticker set, 1 container of Rose Art Fun Dough, 2 cupcake-themed temporary tattoos, and 1 Unreal chocolate and peanut butter ("the double one") candy.
I hope everyone had fun at the party. The crafts seemed to be a hit, and my daughter had the best time. She couldn't wait for her friends to arrive (and was sad when they had to leave), and she loved playing Play Doh and making crafts.
If you would like to buy any of the craft or goody bag items I used, all of the supplies came from either Oriental Trading or Target.