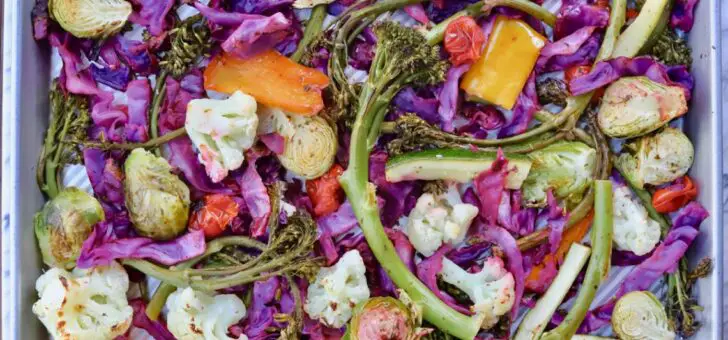 One of my favorite things about summer is the bounty of fresh fruits and vegetables. Our fridge crisper drawers have been overflowing with fresh local lettuces, bell peppers, cucumbers, berries, and all sorts of other seasonal selections. Here in Colorado, we have just recently seen peach and sweet corn season pass, and we are now anticipating the first freeze of fall/winter. I will be sad to see all of the fruits and vegetables of summer go.
Before the summer is officially over, I have been trying to make the most of the seasonal garden treasures. I received a supply of garden fresh veggies from a friend (and already made Cocoa Zucchini Bread from the largest zucchini I have ever brought into my kitchen), so I've been enjoying the fruits (and veggies) of someone else's labor! We still had 2 small carrots, a regular-sized zucchini, and a yellow squash to use, so I decided to roast the veggies to serve alongside Sweet Honey Mustard Chicken.
The recipe I used couldn't have been simpler. All you need is 30 minutes and a handful of ingredients…perfect for a healthy weeknight side dish.
Here's how I made the veggies:
Roasted Summer Veggies (serves 4)
Ingredients
1 medium zucchini
1 medium yellow squash
2 small or medium carrots
1-2 tablespoons of olive oil
salt
fresh cracked pepper
1 or 2 of your favorite fresh chopped herbs, to taste (I used 12 chopped fresh basil leaves and 1 sprig of chopped fresh rosemary)
First, I prepped by preheating the oven to 400 degrees, covering a baking sheet with aluminum foil, and spraying the foil with cooking spray (I used olive oil spray). Then, I cut all of the vegetables into wedges that were about 3 inches long and placed them in a medium bowl. I cut the zucchini and squash wider than the carrots since they tend to cook faster (I don't like soggy, overcooked veggies). I drizzled the veggies with the olive oil and sprinkled them with the herbs, salt, and pepper (to taste). I used my hands to mix everything together until the veggies were well coated. I spaced them evenly on the baking sheet and roasted them in the oven for 20 minutes, tossing them once about halfway through the cooking time.
The veggies turned out excellent. The fresh herbs gave them a bit of a sweet flavor, but the flavor of the fresh vegetables was really the star of the dish. I can't say that the kids were super excited about eating veggies, but they did give them a try. The carrots are especially kid friendly because they are slightly sweet-tasting, and they are tender crisp when roasted for this amount of time (which was also perfect for me since I don't like mushy cooked carrots).
I have a small herb garden, so I used garden fresh herbs to compliment the garden fresh veggies, but you could just as easily use dried herbs. Many varieties of herbs would work for this recipe, so feel free to experiment with your favorite flavors (but I wouldn't use more than one or two herbs, or they might overpower the vegetables).
The veggies were served over couscous, and I plan on sharing that recipe soon because it was a perfect pairing. I ate a second helping of veggies and couscous because I just couldn't get enough!
When prepped in advance, the entire meal I served can be made in 30 minutes. I served Sweet Honey Mustard Chicken with this recipe for Roasted Summer Veggies and Tomato Basil Couscous (recipe coming soon). To prep this recipe in advance, cut all of the veggies and chop the herbs the night before you plan to cook and keep them in the fridge in an airtight container. At dinnertime, all you need to do is mix everything together and pop the veggies in the oven. So simple!