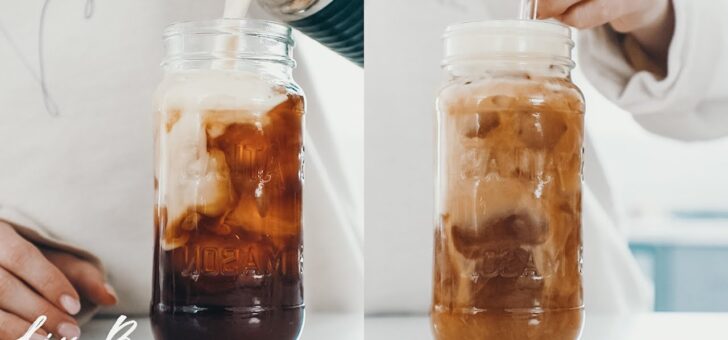 This morning was a bit of a blur. After the long weekend, we were all a little tired (isn't it funny how busy long weekends can do that to you?). And to make things even crazier, my 3 year old started preschool for the very first time today. We had a lot to get ready this morning, so Mommy needed a little treat to help start the day.
I try to eat things that are as natural (unprocessed) as possible. That means I usually don't buy flavored coffee creamer anymore…even though I think it is tasty. There are so many ways to naturally flavor coffee without artificial flavors and preservatives. This maple vanilla iced coffee (I made one this morning) really hits the spot when I have a craving for a special coffee drink.
Here's how I made the coffee drink:
Maple Vanilla Iced Coffee (serves 1)
Ingredients
1 cup brewed coffee, chilled
half and half to taste (or milk of your choice)
1/4 teaspoon pure vanilla extract
3/4 teaspoon pure maple syrup
I pour the brewed coffee over ice and add the half and half. Then I stir in the vanilla and maple syrup a little at a time, tasting the drink as I go to make sure it doesn't get too sweet for my taste. Add more or less maple syrup to suit your taste.
This definitely hits the spot when I'm in the mood for a morning treat. It's less expensive than a Starbucks habit, and I know exactly what is in it…both of which make me feel pretty good!