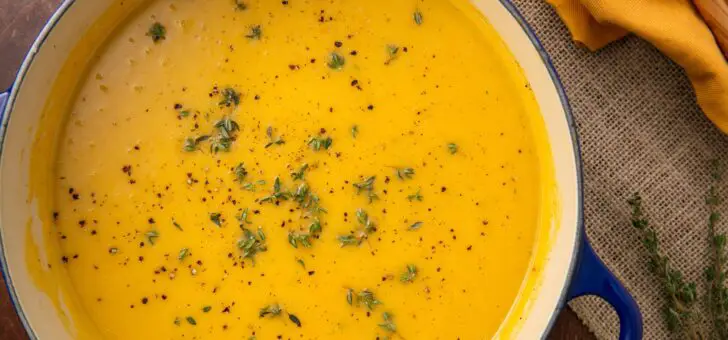 When the air cools down and the leaves start to change, I find myself flipping through cookbooks looking for comforting recipes.  After a summer of salads, it's nice to get back to my trusty soups.  Almost anything can be incorporated into a soup.  Meats, vegetables, and even fruits can make delicious soups, and fall brings a variety of flavors perfect for ladling into big soup bowls.
While pumpkin seems to be the "it" flavor this fall, butternut squash is one of my favorite seasonal flavors for soup.  Roasted butternut squash purees to perfection, making a creamy soup without too much fuss.  Also, when roasted, butternut squash has an inherently rich buttery and nutty flavor (hence the name), so there is no need to add much to it.  A few simple ingredients bring out the flavor, and pureeing the squash with broth and a little cream make a warm and filling soup.
My recipe is adapted from one found in an old issue of Colorado Homes & Lifestyles magazine.Here's how I made the soup:
Butternut Squash Soup
Ingredients
3 lb butternut squash, halved lengthwise, seeds removed
2 tablespoons of butter
1/2 of an onion, chopped
2 teaspoons of brown sugar
4 cups of chicken stock or broth (I used homemade stock)
1 teaspoon of salt
freshly cracked black pepper, to taste
1/2 cup of half and half
croutons, for garnish (I used homemade croutons)
sour cream, for garnish
balsamic vinegar, for garnish
I preheated the oven to 375 degrees.  I pierced the skin of the squash halves several times with a fork and placed them face down in a buttered 9 x 13 baking dish, covering the dish with foil.  The squash baked for about an hour until the flesh was tender enough to be scooped out.  Using a large spoon (and a oven mitt for the hand holding the squash), I scooped out all of the flesh of the squash into a bowl and discarded the skin.  In a large stockpot, I melted the butter over medium heat and added the onions and sugar.  I cooked the onions, stirring occasionally, until they were soft and light brown (about 5 minutes).  Then, I added the cooked squash, chicken stock, salt, and pepper and stirred until everything was well combined.  Bring the soup to a boil, then reduce heat and simmer, uncovered, for 20-30 minutes until soup has thickened slightly.
At this point, I used a handheld immersion blender to puree the soup until it was smooth (if you don't have an immersion blender, just puree the soup in your regular blender or food processor in batches).  In the stockpot, whisk the half and half with the squash puree/soup and cook over medium-low heat for 5 more minutes.  If you desire more salt and/or pepper, add more to taste.
immersion blending the soup
whisking half and half into the soup
I served steaming hot bowls of soup for the adults garnished with croutons and balsamic dressing.  The kids got warm bowls of soup (I let them sit for 5 minutes before serving) garnished with croutons and a dollop of sour cream.
Kids' Butternut Squash Soup with Croutons and Sour Cream
My husband and I loved our soup so much we went back for seconds (and almost licked the stock pot clean)!  This recipe has been a favorite in our house since before we had kids.  The kids were hesitant to eat their soup, but they really enjoyed dipping their croutons into the soup.  Crackers are also a great way to get kids to eat soup…kids really do love dipping and crumbling crackers!
HINT – To make this faster on a weeknight, cook the squash and scoop out the flesh the night before.  You can simply refrigerate the cooked squash until you are ready to make the soup.