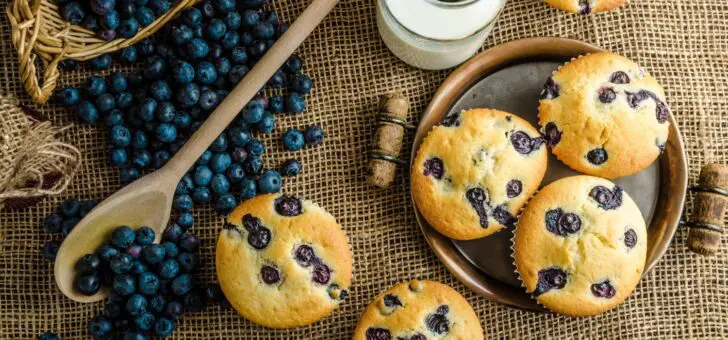 Quick snacks are a must when you have kids.  You always need something you can grab on the go so you aren't grabbing fast food.  The grocery store has a lot of prepackaged options, but it's nice to save money and serve the kids something healthy made with ingredients you already have in your fridge and pantry.
Lately, I've gotten on a kick of making my old muffin recipes a bit healthier, freezing them, and defrosting them whenever we need a good snack.  Muffins make a great breakfast on the go, a nice addition to a lunchbox, and a perfect picnic dessert.  Both of my kids think of them as a treat, and they don't even know that I'm sneaking healthy stuff into them.
Muffins are pretty easy to make, especially if you have a stand mixer.  But whenever I bake, I try to do it during nap time or after the kids go to bed so I don't get too distracted when I am measuring.  Baking is truly a science!
My Betty Crocker cookbook is my go-to cookbook for most things.  The one I have is The Big Red Cookbook from Betty Crocker in the 3-ring binder.  I do experiment with adding healthy ingredients to the recipes, so I rarely make anything exactly as the recipe states.  But the recipes in the cookbook are great traditional recipes.
I've adapted my Banana-Blueberry Muffins from my Betty Crocker cookbook.  Here is how I make my muffins:
Banana-Blueberry Muffins (makes approx. 1 dozen)
Ingredients
1/3 cup milk
1/4 cup applesauce (preferably organic or all-natural with no sugar/sweetener added)
1 tablespoon ground flax seed soaked in 3 tablespoons of water for 3 min (or 1 egg, flax is a sub for the egg)
2 mashed bananas
1 cup all-purpose flour
1 cup whole wheat flour (I always use a 50/50 white/whole wheat flour mix in my kitchen)
1/2 cup packed brown sugar
2 teaspoons baking powder
1/2 teaspoon salt
1 cup fresh or frozen blueberries (optional)
Preheat oven to 400 degrees.  Grease bottom and sides of 12 muffin cups with butter or coconut oil (or use muffin liners for no added fat).  In stand mixer, beat milk, applesauce, flax mixture (or egg), and mashed bananas.  On lowest mixer setting, mix in flour, sugar, baking soda, and salt until all dry ingredients are incorporated.  Gently incorporate blueberries so they are mixed with the batter, making sure they don't get mashed.  Use ice cream scoop to fill muffin cups 3/4 full with batter.  Bake 20-25 min until tops are nicely browned.  Let the muffins cool in the pan for a few minutes, than remove to wire rack to cool completely.
These muffins come out VERY moist and chewy, which I like for the kids because I'm not picking up crumbly muffins crumbs dropped  all over the floor.  They will keep 2-3 days at room temp, 5-7 days in the fridge, or 4-6 months frozen.  I usually keep a few fresh and freeze the rest in gallon Ziploc bags or freezer containers.  Frozen muffins can be thawed in the fridge overnight or defrosted in the microwave.  If you opt to defrost in the microwave, I would put the muffin in for 10 seconds at 80% power to start…then continue in increments of 5 seconds at 80% power until the muffin is soft and room temp (for 1 muffin).
TIPS:
-If you decide to buy ground flax seed, keep it in an airtight container in the fridge to keep it fresh longer.  It is a great fiber boost in smoothies, and it can be used as an egg substitute (1 tablespoon ground flax soaked in 3 tablespoons water = 1 egg) in baking.
-If you would like to incorporate more whole wheat into your diet, you can mix white and whole wheat flour in your pantry flour container (this is what we do) so you don't even have to think about mixing the two when cooking or baking.
-Applesauce makes a great substitute for oil or butter in baking, but the texture of the finished product may be a little different than the original recipe.  I have also used coconut oil in place of the applesauce in this recipe, but I prefer the flavor and texture of the applesauce for this muffin.